When my daughter was a baby she suffered from baby acne. With being a first time mom, and not having the Internet like we have today, I was stumped on what to do. After awhile it finally went away on its own, but I would have loved to have had a product that was safe for her, and that would have cleared it up faster.
With working on baby #2, I want to be prepared. Recently, we were introduced to Sebamed Baby. This line of product is formulated at pH 5.5 which is the ideal balance for healthy skin. With babies having more sensitive skin, the Sebamed products are made to work with them. The Sebamed products are soap and alkali free, which means it won't dry out your babies skin. It's also hypoallergenic and tear free, so no having to worry about it hurting babies eyes if you have a baby that likes to wiggle during bath time.
We were sent two different products to test. The Baby Wash Extra Soft and the Baby Cream Extra Soft.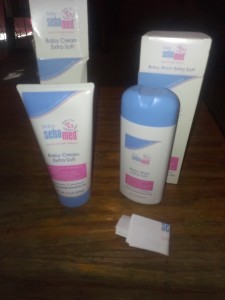 One thing I noticed right away about the products, is they didn't have a real strong smell to them, this is important to me, because small fragrances can give me a headache, I can only imagine what it would do to a baby.
I also noticed the lotion wasn't greasy.One thing I dislike is when putting on lotion, you can still feel it until it absorbs into your skin, or you wash it off. So with it not being all greasy, I can apply it to the baby and know the baby is protected.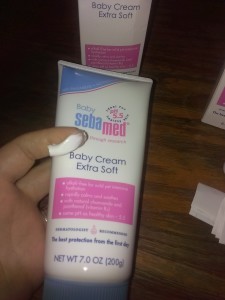 The products are Dermatologist recommended, when my daughter was younger, I always looked for a seal of approval from some sort of medical professional. After all I was only 21 and didn't know much of anything when it came to parenting. I knew I didn't want to mess anything up, and if I had the reassurance from a medical professional, I knew I was doing things right. So I thought back then.
Sebamed has several different products on the market to help keep your babies skin protected!
You can purchase Sebamed products either at SebamedUSA.com, selected retailers, or Amazon
. Prices on the product vary depending on what you purchase and from where.
Make sure to follow Sebamed on its social media channels so you can stay upto date on their products.
Website | Facebook | Twitter | Youtube