I was compensated for this article as a Global Influence blogger. All opinions are my own.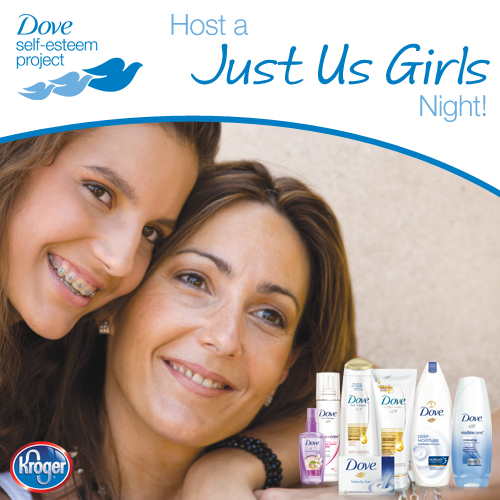 When it comes to being a parent, I will be the first to admit, it's not easy! I thought when I gave birth to my daughter it would be simple, boy was I wrong. Now that my daughter has hit pre-teen, she is all into her image, and while for the most part, that can be a good thing, it can also be a bad thing.
I personally don't want my daughter feeling as though she needs to wear makeup to be beautiful, I want her to know beauty comes within, and isn't about ones appearance. In this world we seem to think beauty is what's on the outside, but we also fail to realize beauty is so much more than our outer shell.
I myself, have had self-esteem issues, when I was younger and I currently still do, this has to do with my childhood, and having one parent that liked to feed off my pain. I know all to well the anxiety that comes with having a bad self image of yourself, and I don't want it for my daughter. Did you know six in ten girls stop doing what they love because of anxiety about their looks?  We live in a world where people like to judge one another for their looks, and it's effecting our children.
Thankfully, my husband has been helping me with my own self-esteem issues, and this has allowed my daughter to see, that beauty isn't all about the outer shell of a person. We tell our daughter daily how beautiful she in, both on the inside and out. We want her to be proud of who she is and never judge herself or others, and to get a little mom/daughter bonding time we like to hit the movies! Nothing like a great chick flick to bring this mom and her daughter closer together.
What are somethings you as a parent do to help with your own child's self-esteem?
Kroger and Dove have partnered up to bring you #GirlsUnstoppable. The Dove® Self-Esteem Project is to help reach more than 15 million girls, and offer them self-esteem building programs in 2015. Not all girls have parents to help build them up for the world, to encourage them to do what they love, and to work with them to go after their dreams.
One great thing about this program is proceeds from every Dove® product purchased at Kroger goes to helping girls know their worth!
Helping boost girl's self-esteem doesn't take a lot, and by downloading the Dove Self-Esteem Toolkit, you to can help boost the self-esteem of a girl close to you. Whether it be your own daughter, your daughters friend, or just a girl down the road who thinks badly of herself. The toolkit will also help you with ideas for your own Just Us Girls night.
In order to reach as many girls as possible, Dove® has also partnered with the Boys and Girls Club, Girls Scouts, and Girls Inc. So as moms let's also do our part, and get to Kroger and purchase Dove products. With each Drove product you purchase from Kroger, you are helping provide another girl with her self-esteem. So far during this program Dove has helped over 11 million girls, together we can help them meet their target goal of 15 million by 2015!
Moms play such a big role in their daughter's lives, we need to show our daughters they're UNSTOPPABLE!
What do you say are you in? If so head on over and get the Dove Self-Esteem Toolkit, when you got it come on back over and enter to win $15 in Dove products!