Christmas is one of my favorite times of the year, it's the time when I can spoil all the little ones around me and not feel guilty. It's a time when we can all sit around the table and reminisce about our childhood Christmas's and about the things we enjoyed as children, all while watching as our children open up another item that they had been scooping out all year.
One thing I like as the years have gone on, is the things I once loved as a child are coming back, and now they're things my daughter and nieces love, such as My Little Pony. I remember when I was a child watching My Little Pony all the time!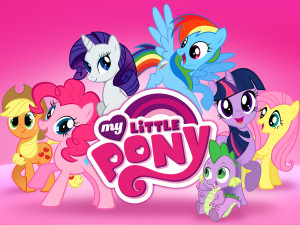 It was just something about the bright colors that drew you in, so when My Little Pony made a come back I was giddy! I was excited to see the show I once loved making its way back on to our televisions, and even more excited to learn of them coming to items that my niece would love such as earbuds, and walkie talkies.
Recently, I was sent some My Little Pony earbuds and My Little Pony Walkie Talkies to check out. I think I was more excited about these items then my daughter was, but I know a niece who is going to be thrilled on Christmas morning.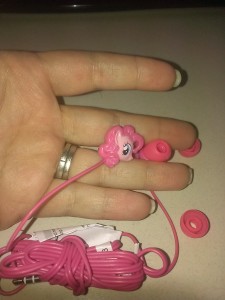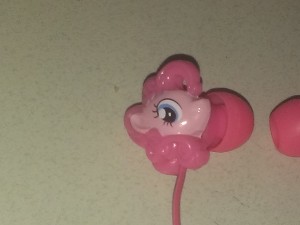 As you can see from the picture above the detailing on these earbuds is pretty good, they come with extra cushions as well, which I like means the ears won't be hurting. I wasn't expecting these to sound as good as they did, because I honestly would have considered these a "kid" earbud, and we all know kids don't really know how well the music should sound.
The cord is also long, so this is another plus, these earbuds are compatible with all your iDevices such as the iPod, iPhone, and iPads, they also will work with your standard mp3 player, and other cellphones/tablets. They retail for $14.00 and you can purchase them at stores such as Kmart, Wal-Mart, and even on Amazon
.
Next in the My Little Pony line you have the Walkie Talkies. How many little kids do you know that get a kick out of talking to you from the other room. Walkie talkies have always been a hit in our home, whether the cute character ones for the kids, to the big and powerful ones for the adults.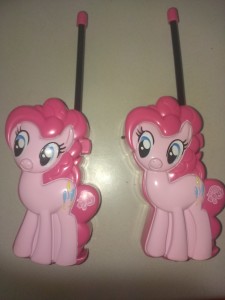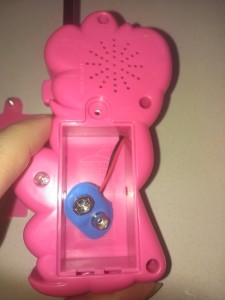 These particular walkie talkies are recommended for ages 3 and up, they each take a 9v battery, they have an easy push to talk button, which makes it easier for the little ones to operate. These also have an one and off switch, so when not in use the batteries are not draining.
Since these are for kids they don't have a huge range on them, but allows for hours of fun. I remember when we were kids we would use walkie talkies while playing hide n seek! Great times and many memories to be made.
If you're needing gift ideas for the younger kids this holiday season, these two items would be a great hit, the ear buds paired with an mp3 player and loaded with their favorite music, and the walkie talkies so they can have hours of fun with their friends, or so they can let mom know what they need in the middle of the night!
The My Little Pony walkie talkies can be purchased at stores such as Wal-Mart, Kmart, Toys-R-Us, and even Amazon. These retail for $19.99
Be sure to let your My Little Pony fan check out the My Little Pony website, where they will find fun games, videos, and even printables.