Going to College can be so stressful, first you have the cost of actually attending, then you have the gas to get back and forth, and if you live on campus you can cut the cost for gas, but then you have the cost for your dorm room, by the time you get enrolled and settled in you're paying thousands of dollars for only one semester.
Once you get registered for your classes you get the list of books you need for each class. Have you priced college books yet? When I was thinking about returning back to school, and I was given that list of books, my mouth dropped, I was going to have to pay over $1000 for my books that semester!!!
CampusBookRentals.com helps take that sting off your wallet. Why rent those books instead of buying them, well for starters why buy them when you won't need them but for one class. Below you will find some perks to renting books via purchasing them.

Renting College Book from CampusBookRentals.com Perks
*Save 40-90% on the price compared to bookstore prices.
*Free shipping both ways, so no spending extra for shipping
*You can highlight in the books, sure you can if you purchased as well, but you will also be paying 40-90% more for a new book, when you'll only be using it for one class.
*CampusBookRentals.com has flexible renting periods, and price is based on how long you may need the book for, and they also donate to Operation Smile wit every textbook rental.
So why rent books via purchasing? Because you can get your books cheaper and you can also help support a good cause. Not sure what Operation Smile is?

Let me explain it to you, Operation Smile is an international charity, they're the largest volunteer based medical charity,  that provides FREE cleft surgeries, without this charity millions of children would die, or go through-out live not being able to do many things we take for granted, such as eating, drinking and even smiling.
Since the start of Operation Smiles in 1982, they have given over 200,000 free surgeries to children and young adults born with a facial deformity. Without a charity like Operation Smile, those in poor countries would be left not being able to do some of the things that are needed to survive, like drink and eat, and without companies like CampusBookRentals.com giving back to charities such as Operation Smile, they might not have been able to help all those children and young adults they have been able to help over the years.
So as you can see renting those books has a lot of added benefits. However, if you have already purchased your books for the year CampusBookRentals.com have also started another branch off their site called RentBack, which will give those students who own books to rent them to other College students and those students with the books can make back 2-4x as much money!
See the image below to see how it all works.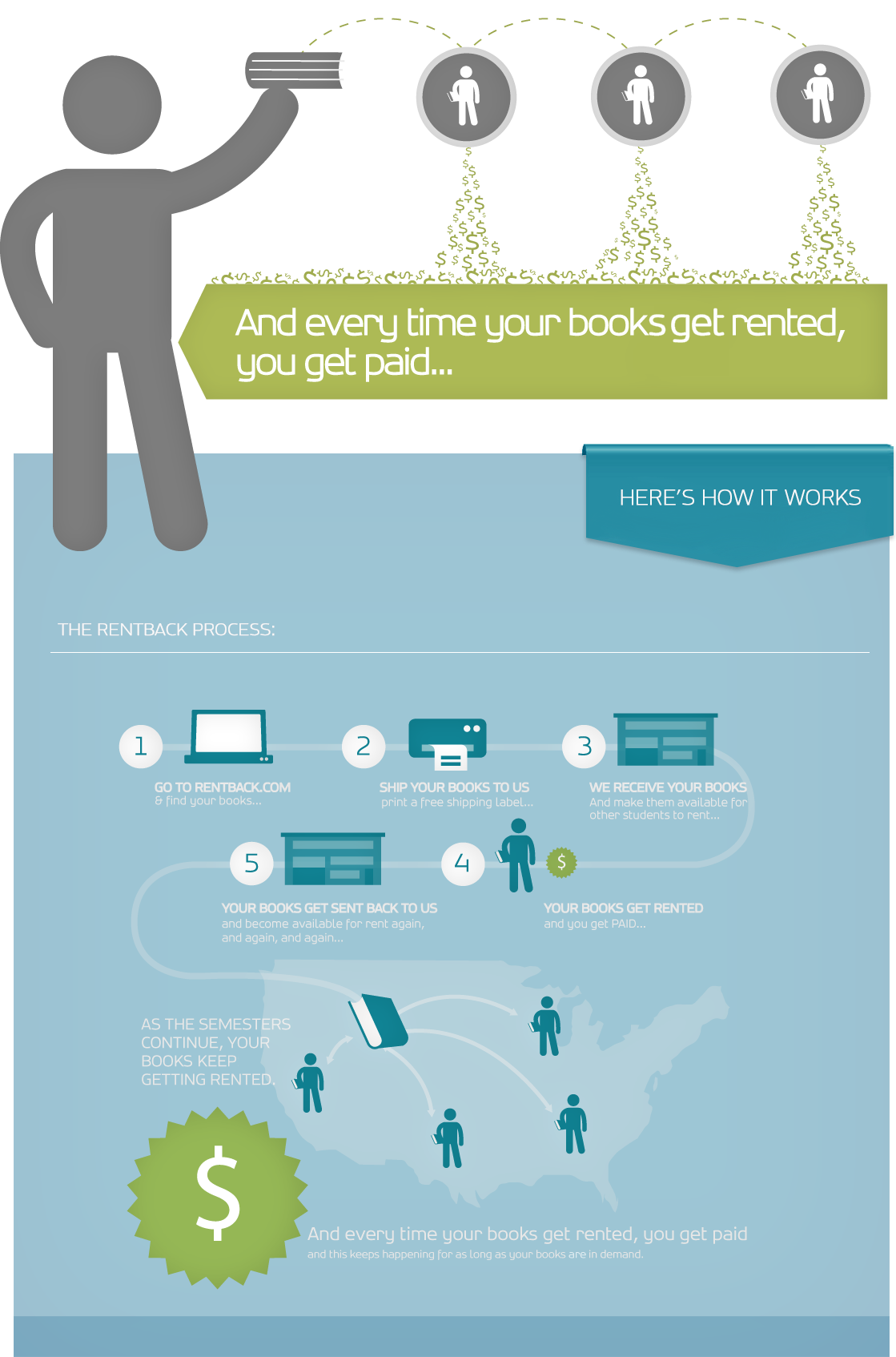 So why go with CampusBookRentals.com? Because you can get your books cheaper, they give back, and they allow you to use their platform to make money if you already purchased your books! Don't let the book store make you broke this school session, rent those books!
Below you will find a video on how Rent Back works.