How many of you like playing Bingo? It's no secret I am a big fan of Bingo; it all started the day I turned 18. Okay, so it was more like when I was 12, we would get the Bingo wheel out, and play for trinkets mom would pick up at the store. However, when I turned 18 I was ready to play Bingo for cash!
My birthday present from my mom on my 18th birthday was to the local casino's Bingo Hall. We had so much fun that night; I didn't win any money, but I got hooked. I started with a packet with 6 cards and moved up to as much as 36 cards at a time, nothing like a number being called and scanning your cards for the numbers.
Things have changed though in the bingo world since I was a young 18 year old. You can now find Bingo games online to play, and let me tell you I have played my fair share of online bingo games. Of course, these were just for killing time and all I won were points, but hey a win is a win, right?
It has been several years since I last went to Bingo, and we had to drive almost 2 hours to get to the Bingo Hall, so I am ready to drop the commute and play bingo online!
Luckity.com is the first ever legal website in the US that offers bingo players a chance to win real money! Yes, I said it: real money. So drop those bingo dabbers and pick up the mouse and get clicking. I am a bit out of tune with the bingo world, so it may take me some getting used to again when it comes to clicking those numbers.
So what exactly is Luckity and how do you get in on the online bingo playing action?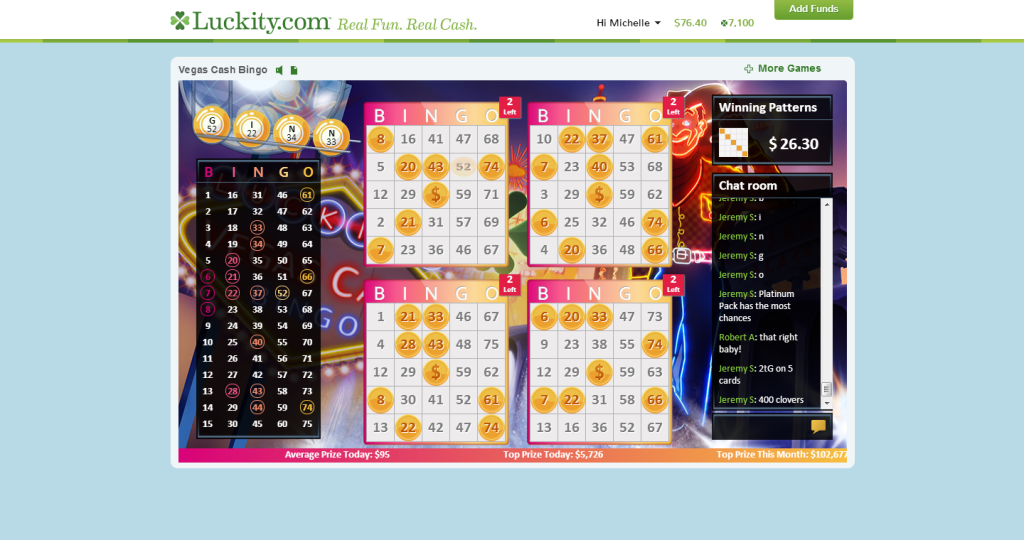 What is Luckity?
Luckity is an online cash bingo site, and is part of the historic and trusted Churchill Downs family. It is also the only legal website in the US that offers bingo players a chance to win real cash prizes. No more having to go find a bingo hall, just simply go to Luckity.com and get your bingo fix.
How Does It Work?
Well like all bingo games of course. Players purchase bingo game packs and have several ways to win real cash prizes.
Card Type
*Cash Bingo Cards give you chances to win big money prizes!
*Clover Bingo Cards enable you to win Clovers for the $100 Weekly Giveaway! The more Clovers you win, the more $100 Weekly Giveaway entries you can get!
*Plus, each Bingo Game Pack includes extra $100 Weekly Giveaway entries!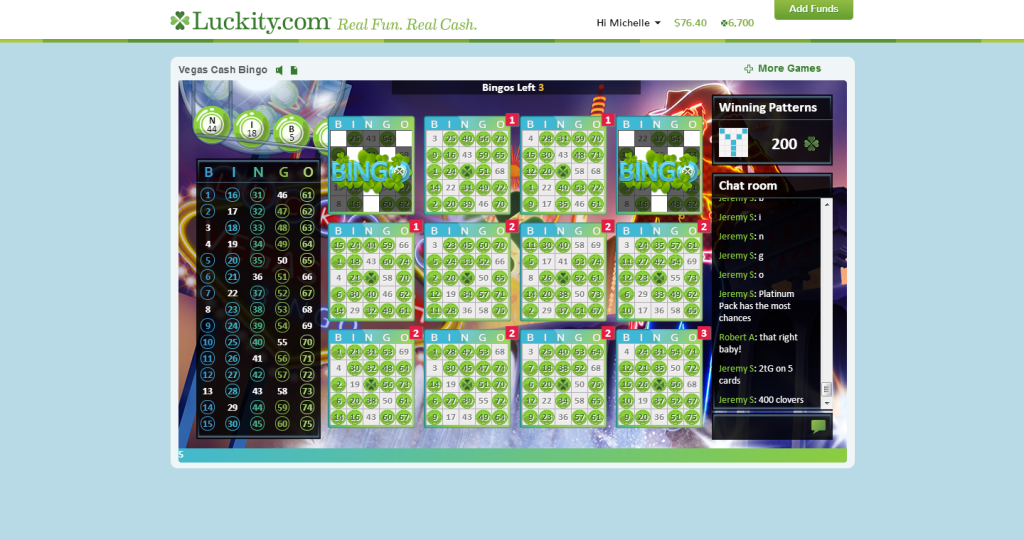 How Do I Get Started?
Head over to Luckity.com and create a secure account. After you make a deposit you can start purchasing bingo game packs. Cash bingo game prizes and winners are determined by the outcomes of live horse races taking place worldwide. Each cash bingo card purchased is randomly associated with a specific horse in a specific race, much like a Lottery Quick Pick. When the horse wins, the associated bingo card displays a winning experience by covering the pattern and awarding the applicable cash prize! Winnings are instantly deposited in players' accounts and may be withdrawn immediately.
So what are you waiting for? Head on over to Luckity.com and register to get in on the Online Bingo action! However, that isn't all for all my readers who register and enter code eoo98 will get $15 FREE when they deposit a minimum of $10. Please note you must enter the code during registration and keep in mind you must play the $15 you get for free, but if you win anything with it, it is yours to keep. Also, by registering you are entered into a drawing for $100!!!
Disclaimer: Luckity operates online cash bingo under the Federal Interstate Horse Racing Act and is licensed by the Oregon State Horse Racing Commission.