How many of you usually find yourself coming home from the store with an arm full of groceries, and often times some kiddos at tow? While, I only have one child, I tend to try and carry in everything at once, I mean who wants to make several trips to the car to carry in all those groceries.
This leads me to either having to drop some bags on the porch in order to turn the door handle, or me kicking at the door until my husband or daughter comes to open it for me.
Recently, I was introduced to a product that would make my life easier. This product isn't just for those busy moms that try to over do it, this product is also for those that like to get messy under the hood of the car. Brink's Home Security's Push Pull Rotate door knobs and levers has taken door handles to an all new level. These particular door knobs and handles were introduced this summer at Lowe's and range in price, with the lowest being about $25.
We were sent a Brink's Home Security Push Pull Rotate door knob to check out for ourselves.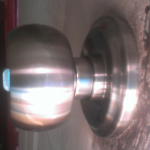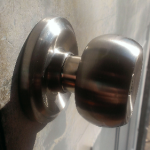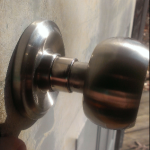 It didn't take long to get the old door handle off and the new one on. One thing I don't really like about the new handle is the knob to lock it, it a bit small, and at times it takes a little messing with in order to lock it. After having it up for a few weeks, it has gotten easier to lock.
I do like that then I come home and have my hands full all I have to do is push the door knob, no more having to wait for my husband or daughter to come grab the door. If you're looking for a good strong door knob, that will allow even the ones with a handful to open, this is the door knob for you.
Watch the video below to learn more about the Brink's Home Security door knobs.