Can you believe Christmas is less than two weeks away! Where has the year gone! How many of you like getting into the Christmas spirit with Christmas music and some of your favorite Christmas movies? One of my favorite things about Christmas, is all the Christmas movies. The new and the old classics ones.
A few of my favorite are A Christmas Story, Frosty the Snowman, and of course the Charlie Brown Christmas special that comes on every year.
We were recently sent a few different Christmas DVDs to check out, and I have to say I was pretty excited to see The Original Christmas Classics and DreamWorks Holiday Collection show up in my mail box.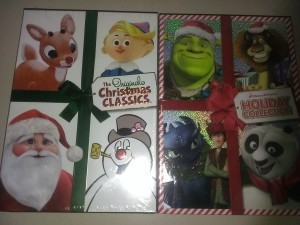 The Original Christmas Classics, has some of my favorite Christmas cartoons from when I was a child and I just so happen to get lucky, and now my daughter also enjoys them. This particular gift set has a run time of 277 minutes and has 7 holiday favorites. Rudolph the Red-Nosed Reindeer, Santa Claus is Comin to Town, Frosty the Snowman, Frosty Returns, Mr. Magoos Christmas Carol, The Little Drummer Boy, and Cricket on the Hearth.
Growing up every year during the Christmas season I remember sitting on the couch and watching several of these cartoons, with only having a few channels we would record them to VHS, so we could watch them over and over. Just like back then I have to say my favorite is Rudolph the Red-Nosed Reindeer. This particular cartoon has so many messages into it, for young kids, I wished more kids would sit down and watch it. However, I am sure not everyone sees the same message I see, and that is okay.
Then we have a new one I was unfamiliar with until it showed up at my door, and that is DreamWorks Holiday Collections. With being a fan of Shrek, Madagascar, and Kung Fu Panda, I knew this one was going to be a keeper.
This DVD gift set has 4 different cartoons on it, Kung Fu Panda Holiday, Dragons Holiday Gift of the Night Fury, Merry Madagascar, and Shrek the Halls. If you're a fan of Shrek, Madagascar, How to Train Your Dragon, and Kung Fu Panda, you will LOVE this DVD gift set. My niece and daughter sat there laughing their behinds off.  Each cartoon has a runtime between 22 minutes and 28 minutes.
Both DVD's would make a great addition to the Christmas season. Not only will the kids get to watch the classic cartoons you watched, but they will also get to get more into the holiday spirit with Christmas cartoons from some of their own favorite cartoons.
Both DVD sets can be purchased on Amazon
, or you can pick up at your local Wal-Mart. The price will vary depending on where you purchase. Please make note, the Blu-Ray version of The Original Christmas Classics, only has 4 of your favorites instead of the 7 like the DVD version.
I know Christmas is in about two weeks, however, if you haven't finished that shopping yet, make sure and print the wish list (found below) and get those kiddos to fill it out, this way you can tuck it in your purse, and you will have with you their list.