Living in the South I hear Redneck often. Usually is it my husband and his friends calling each other it, and once in awhile I will hear my mother in law reference something as being "Redneck". When I hear the word Redneck I always think of Jeff Foxworthy, you know those you might be a redneck if…
Recently, I was introduced to a new kind of Redneck, Redneck Nutz.
Redneck Nutz are made in Springfield, Missouri. They're made with large Virginia Peanuts, whole cashews, pecan halves, and Missouri Black Walnuts. They come in many different flavors whether you like your nuts sweet, salty, or spicy. Rumor has it the special blended seasoning used will have all those redneck taste buds begging for more. Redneck Nutz are preservative and additive free, so you don't have to worry about any added chemicals.
Redneck Nutz are packaged in authentic Ball mason jars, so after you eat the goods you will have a cup for your sweet tea! No since in filling the landfills when you can reuse the packaging. See us Rednecks know how to save the planet!
I was sent some Redneck Nutz to try out for myself, and I have to say when I was asked about reviewing the product my mouth watered just waiting for the shipment to show up.
First, let me tell you, I found the packaging to be SUPER cute, I mean come on the mason jars with the little bandannas, adorable, and the small carry container. I have to say this is a clever way to package their products, and all the many things I can use the mason jars for whether canning, storage or even as a cup. After looking on their website I seen they have some great uses for the crates, you can even purchase the crates separately if you don't want their nutz, but trust me once you try them you will want more.
So anyways let's get back to these nuts. We were able to try Moe's Mouth Puckerin Dill Cashews, Bubba's Smoken BBQ Cashews, Granny's Fancy Maple Pecans, and Jalapeno Dill Cashews & Peanuts.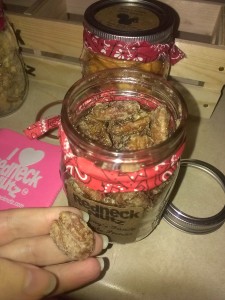 I was in heaven, I am a nut girl, I have always loved nuts, whether it be peanuts, walnuts, pecans, almonds and even hazelnuts. My first thought when I tried some of each, okay, okay a lot of each. Was YUMMY, the dill ones had a unique flavor that kept me going back for more, and the BBQ I has to grab some of those to get the dill flavor out of my mouth, then I need some sweets and this was were the pecans came into play.
I liked each flavor, but if I had to pick it would be the Jalapeno Dill ones. I am not much for spicy, but these just had something about them that hit the spot. With the three of us eating them they didn't last long. These are a product I would love to be able to pick up locally.
Redneck Nutz can be purchased on their website, and the prices vary depending on what product and why type you get. They have different sizes of gift baskets. Did I also mention they also have lids with holes in them to turn your soon to be empty jar into a sippy cup, I mean how Redneck is that!
Want to try some Redneck Nutz? Well, you're in luck two readers of The Neat Things in Life, are going to have a chance to check out Redneck Nutz, this way you can see that I am not lying when I say these nutz ROCK.
Prizes:
1st Place: 3-pack Plus premium nuts. This will include crate with 3 jars of either cashews, pecans, walnuts or peanuts. What you receive will be up to the sponsor, you will also receive 3 sippy cup lids so you can turn your empty jar into a Redneck sippy cup and a koozie a value of $43.98.
2nd Place: Valentine Duo: A jar of there new Hot Dill! (jalapeno dill peanut/cashew mix)and a jar of the limited time only, Hot Cinnamon, with 2 koozies a value of $19.99
Make sure to follow Redneck Nutz on their social media channels to learn about and specials they may have going on, and any new flavors they may be introducing.
Website | Facebook | Google+ | Pinterest
Giveaway is open to US residents, follow rafflecopter to enter.