When it comes to our two dogs, they're what one would call spoiled. I try to always make sure they have treats on hand, and they know where those treats are, probably because that was our secret weapon to potty train them. They new if they went outside and went to the bathroom, they would get a treat once they returned.
However, now Yoda thinks EVERYTIME he comes in from outside, this entitles him to a treat. So he is often bugging to go outside only to turn around and come back in, he thinks he has us around his fingers, but we're on to his little trick.
Recently, the boys were sent some new treats to try from Organic Pet Boutique. We received one Bully Stick, and the Blueberry Energy Snaps.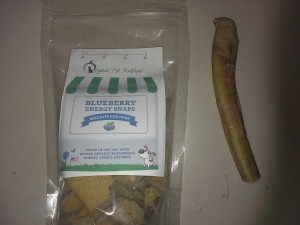 Since Bones is the oldest he got the Bully Stick.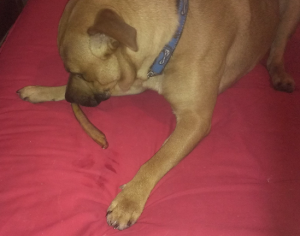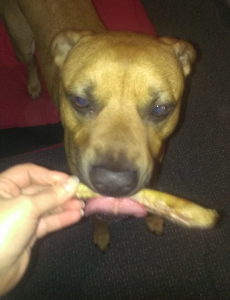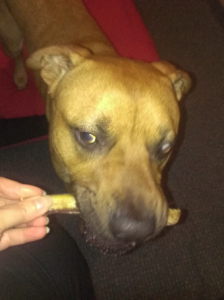 Bones made sure he didn't let this leave his site, he knew if it did, he wouldn't get it back from his brother, so he laid on his bed and ate it all!
Both boys were able to check out the Blueberry Energy Snaps though.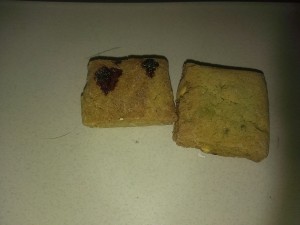 And both boys seemed to like these very well. So well when they got them they gobbled them up, so I have no pictures to show of the boys enjoying their new treats.
One thing I liked about the products are that they're made with organic products and while these are not intended for human consumption, all ingredients within the energy snaps are products humans can consume. With my furrbabies being a big part of our lives, we want to make sure we're giving them healthy treats.
I do personally bake a lot of their treats, not only because it's healthy for them but cheaper than store bought treats. So that is another thing, I have to say I like about Organic Pet Boutique, I like that they offer homemade pet treats and skip all the added flavoring and chemicals that can be found in treats purchased at the store.
Organic Pet Boutique offers a wide range of products on their site, whether for your dog furrbabies or your cat furrbabies. Their products range from treats, to clothing, to toys, and even to food. Prices of course depend on what you purchase and how much of it. The Bully Stick that we reviewed is $3.59 and the Blueberry Energy Snaps are $9.99.