How many of you got sucked into the cold weather circle? We did and I wasn't a fan at all. I was born and raised in Michigan, and if you have ever been through a Michigan winter, you know the temps can get down right cold, and we can get several feet of snow. However, with living in Tennessee for the past 12 years or so, I got a bit spoiled to the warmer winters.
This winter however, has been a real pain in my behind. It seems as though we have had some of the coldest temps of all times, and this has caused really high heat bills, power lost for hours at a time, and of course the going on 12 days of no water. Hopefully, today the weather warms up enough to thaw out all the water pipes, so the busted ones can be fixed, and we can once again see running water. Slap me for saying this but THANKFULLY, my mother in law lives next door, so we have been able to shower, wash clothes, and tote water to wash dishes and flush the toilet.
I am also grateful for American Blanket Company, which sent us a soft plush blanket for review, just in the knick of time.
American Blanket Company, thrives to make the best plush blankets, that are not only super soft, but also keep you warm on those cold winter nights. American Blanket Company manufactures the blankets here in the USA, and offer a 100% guarantee on their products. They sell different types of blankets, as well as different sizes. They have the size to meet your needs, whether you're looking for the softest plush blanket for your new born baby, or the best soft blanket for your king size bed, American Blanket Company has you covered.
They offer several different sizes, several different colors, as well as several different fleece types. Their products are also affordable, and you can even have your blanket personalized! I am a fan of personalized products!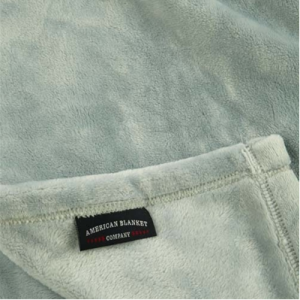 We were sent a Queen size Luster Loft Fleece Blanket in Buxton Blue. This particular blanket is 90″ x 88″ and retails for $69, the twin is $59 and the king $79. It comes in nine different colors, and can be personalized. If you want personalization added, you do have to give additional time for your blanket to arrive, and the price of your blanket will be $10 more. Which I think it a pretty good deal!
I love that these blankets are American made, and that they won't shed. American Blanket Company is very confident of this and their blankets are guaranteed for life! How many companies do you know that stand behind their product for life?
When I first pulled the blanket out of its nicely wrapped box, I was in heaven. The blanket is by far the softest blanket I have ever felt. I informed my husband and daughter that this was MY blanket, of course if they're nice, I may let them touch it, and use it from time to time.
That night I slept so good, not only because of the softness I had from the blanket, but the warmth that it provided. I found this blanket to keep me warmer than the flannel I was using before this super soft plush blanket arrived. Shortly after receiving the blanket, the rain decided to come. With the already cold temps this caused the freezing.
We went without power for 50 hours off and on during a three day stretch. We spent most of the power outage time cuddled in bed with the dogs, and 4 blankets. We were toasted while under the covers! While, I don't wish to be without power again for that long in the cold, I am glad we had the Luster Loft Fleece Blanket to keep us extra toasty.
It is so toasty our spoiled dog even loves it!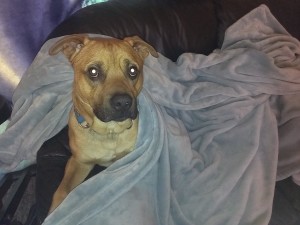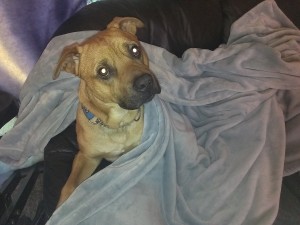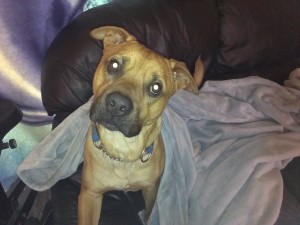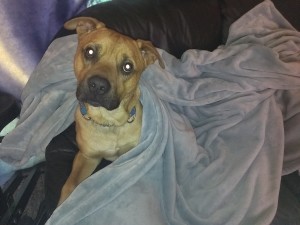 The Luster Loft Fleece Blanket is machine washable, so if it happens to get a little dirty, you can wash it and not have to worry about the blanket messing up. Just follow the directions on the blanket:  Machine wash in cold water, separately. Tumble dry, no heat.
Then call it a night and cuddle up with your four legged furrbaby and get a nice cozy nights sleep.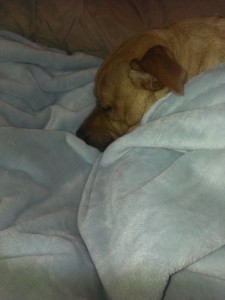 One lucky reader of The Neat Things in Life, is going to have a chance to win their very own Luster Loft Fleece Throw Blanket! To enter follow rafflecopter below, remember be honest, don't copy off your neighbor, and be specific, I don't want comments such as "I would like the luster loft" or "I learned the blankets are made in America" Comments like these will not count, I am sorry.