How many of you have yet to make those Valentine Day purchases? My husband and I usually never purchase for each other, we always try to get our daughter something even if it's just something small. If you are a last minute shopper like me, you're in luck. Even though Valentine's Day is tomorrow, there's still time to head out to your local CVS Pharmacy and pick up some sweet treats at affordable prices.
We were recently sent some goodies from CVS Pharmacy to check out from their Gold Emblem line of products.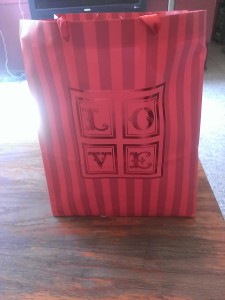 Once I opened the bag, I found it full of neat treats, one thing I loved is it wasn't all candy! While we all love candy, I prefer to give a mix of both to my daughter for the holidays. We usually will gift her a stuffed animal, some beauty products, and some candy, so when she is needing a little pick me up she has her sweet treats to go to.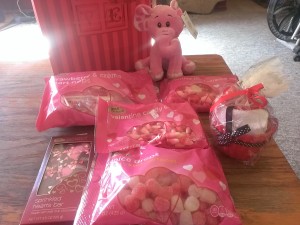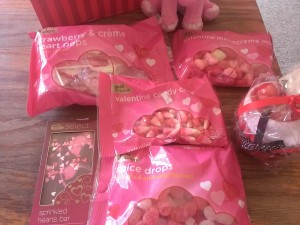 When I opened the bag of goodies the first thing I noticed was the pink elephant! Pink just happens to be my daughter's favorite color! The pink elephant is so adorable and super soft, best part about it, you can pick one up at your local CVS Pharmacy for under $5, and let's not forget the cupcake, not only does it have wash clothes in it, you can also use the bottom half for a cute little container for your make up. I think these are some pretty sweet treats that will save on your wallet and your belly all at once.
However, Valentine's Day cannot be celebrated without a little bit of candy. I mean we have to have those love colors in the mix somewhere. CVS Pharmacy also carries a wide range of Valentine's Day candy, we were sent some candy corn, Valentine's day Suckers, a Valentine's Day chocolate bar, gum drops, and some Valentine's Day mellocremes.
I love candy corn, so it was a pleasant treat to see CVS Pharmacy has a Valentine Day edition, the suckers remind me of a cream savers, which just so happen to be one of my daughter's favorite hard candies. The gum drops were spearmint which just so happened to be a refreshing treat for me.
With CVS Pharmacy having over 7,600 locations, you still have time to run out and get your sweetie some Valentine's Day treats. Remember your sweetie doesn't have to be your significant other. It can be your child, other family member, or even your friend. Valentine's Day isn't just for those in love, but a day to show those people that you love, that you're thinking about them!So if you still have yet to pick up those Valentine's Day goodies, head on over to your local CVS Pharmacy and check out the Gold Emblem line of products, you won't be disappointed. Products and pricing vary based on location.