I am unsure how long I will have power, this past week has been a week from hell only with freezing cold temps and no power. It all started Sunday, about 8:30pm the power flickered, then it was no more. I am sure there was a lot of pissed off people here because of the super bowl going on. According to the electric company at this time there was over 12,000 people without power, and only about 100 works trying to find out where the cause of the outage was.
We finally got power back at about 10:30am or 1pm I am not certain, I was so cold I have lost track. Then as we slept the power decided to go out yet again, 3am Tuesday morning we were left in the dark, we were the only road in the area without power, and we were back on about 6:30am. This didn't last long though Tuesday it started pouring and it rained for over 10 hours straight, and the temps hoovered at the freezing mark.
This new rain with the already icy trees meant for an even bigger mess. 12:30pm Tuesday the power went out, this time it wasn't coming back on. The electric company, city workers, and others worked through-out the night cutting fallen trees off the roads and the power lines.
We wanted to stay warm so we found ourselves in the car driving around town, and going to the local taco bell parking lot to get on their internet to check emails and see what the status was on the electric companies facebook page.
I don't recommend leaving your home when you have an ice storm going on, and if you do have to leave, make sure it is in day-light hours, we found tree limbs down, sagging trees in the road, and even power lines sitting in the road. We finally got power back on about 6pm Wednesday evening, I am ready to snuggle in bed and sleep, I have had about 7 hours of sleep in the last 48 hours, try sleeping with no power, my husband, daughter, and I were piled in the bed with all our blankets, then the dogs wanted to sleep on my feet, and whenever I moved I would get growled at…
I felt as though I was a sardine, not fun I tell you, not fun. Below are a few pictures of the ice and trees in my area, I didn't get many of the trees in peoples yards, because I was driving most the time and when I wasn't my husband was going to fast for the camera. Tomorrow if my power stays on, I will be working on some reviews and I have a few giveaways to get up.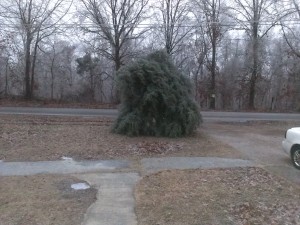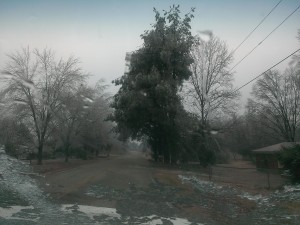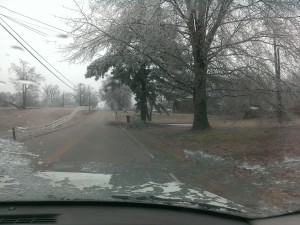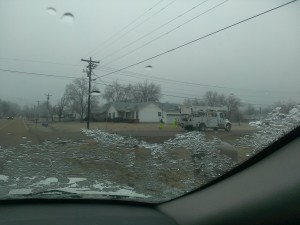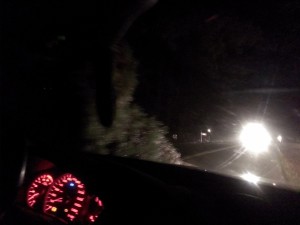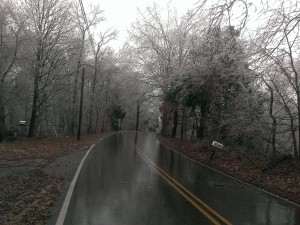 The above pictures are only a little of the mess left behind, I am sure we will have more fallen trees come tomorrow. The one picture taken at night was a tree limb that was broke and hanging in the road. On the highway they had trees falling on cars! I am sure this nasty weather is still not over, if you're in the path stay warm and safe.