There are several types of people, there are people who can get by on a few hours of sleep in very awkward positions, then there's people like me who needs several hours of sleep, and that sleep needs to be a comfy type of sleep, or those hours slept meant nothing. No matter how hot or cold it is out, I need a certain blanket on me in order to sleep. If I don't have that blanket close by I toss and turn. Yes, I have to have my blanky!
I also have to have my pillow a certain way, if it's to flat, I will add a blanket under my head balled up to get the extra pick me up. With that being said, I also like checking out new bed products, to see what products might help me get an even better sleep. Recently, I had the opportunity to check out the Sweet Slumbers Pillow.
The Sweet Slumber Pillow is made with shredded natural latex, is hypo-allergenic and dust mite resistant, and comes with a zip up cover which is 100% cotton and machine washable. When the pillow first arrived I was extremely excited to check it out, when I pulled it from the box it was oh so comfy, I knew this was a pillow I was going to love!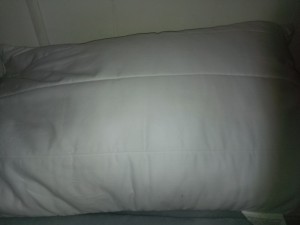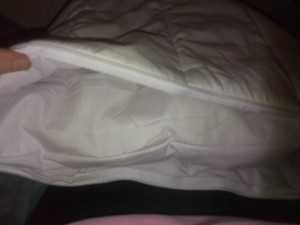 I slept on it the first night and I got a pretty good night sleep, however, I woke up with a headache, and I came to learn the latex smell of the pillow was a bit over powering, and I was not going to be able to use this pillow. The pillow itself though is very comfortable, and I would love if I could find away to mask the smell of the latex so I could use the pillow without feeling as though I was going to get sick.
I have thought about putting some dryer sheets on the inside of the zipper part and see if that helps, I have tried placing a blanket in between and had no luck. The latex smell is just to much for me.  If you don't have a sensitive smell to latex, and you like comfy pillows, this would be a pillow for you. The standard one retails for $89.00 or for $10 more you can get the king.
Bottom line, the pillow is super comfy, your head just lays in it as if you were laying on clouds, it's easy to wash with its removable cover, but the latex smell is to strong and the pillow didn't work for me, unless I can find away to mask the latex, which I will be working on, because I am a fan of the pillow.
You can purchase the Sweet Slumber Pillow as well as other bed products at Reverie.com.