Yesterday, marked one month of having the 3D Printer, when we decided to take this journey, we knew it wasn't going to be a walk in the park. We knew it was going to take work. We got the website up, added our items, and we decided to also put everything on Etsy. To be honest, we were iffy about putting stuff on Etsy because of the fees. However, we knew if we wanted to get seen, and if we wanted to sell our items, we needed Etsy.
I don't know about you, but I won't purchase things from a website that is new. So by having it on Etsy, we can build trust, and trust when it comes to selling online is a MUST.
Well, yesterday our first order came in! It was for three cat punch self-defense keychains!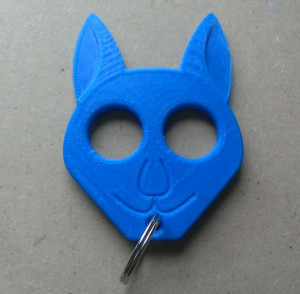 What was exciting about the order, is the fact it was exactly one month ago that we received the 3D printer in the mail, and a few weeks since we added our first items to Etsy.
As the time goes by we will be adding more items to both Etsy and our online store. If you would like a Cat Punch Self-Defense keychain, head over to our Etsy store, they can be made in pink, purple, green, blue, yellow, gold, orange, and red.
Do you have an Etsy store? How long did it take before you started to make steady sales? If you don't have an Etsy store, but would like to sell your items on Etsy click here and get free listings.
.