When it comes to drinking I rarely drink. I am not a big fan of the strong alcohol taste in most adult beverages. However, I am willing to try different ones to see what all is out there, my main choice of drink is some vodka and orange juice. However, this past new years I discovered a few more drinks that were right up my ally. Not to strong, but oh so yummy.
Occasionally, I like to sit back in the tub and unwind with a nice glass of something to drink. Whether, it be a mixed drink or a glass of wine. It wasn't until recently, I found a wine, that I actually liked! Not only did I like the taste, but I also liked the price tag, this is a wine that I can find myself unwinding to several times a year.
We were sent a few different Moscato wines from Gallo Family Vineyard.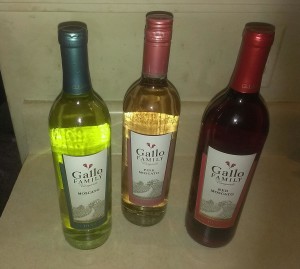 With having had a stressful week, we opened them up and tried a little of each, my favorite was the Pink Moscato.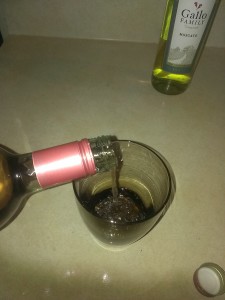 The Pink Moscato is a lighter wine, you don't have the strong alcohol taste, and that was something I liked about this particular wine, it has a very refreshing flavor. So far, out of all the different wines I have tasted, this is the only one I can actually sit down and drink, the other wines I have tried have been to strong for me.
The Red Moscato was my husbands' favorite, this one had a stronger alcohol taste, I was also able to handle this one, but it was still a bit to strong for me, the White Moscato was just as good as the other three, with the Pink having the lower alcohol content, I believe it was a little under 10%, while the other two were a little over 10%.
Like I mentioned previously, one thing I also liked about the wine was the price. You can enjoy a nice wine that can be enjoyed by itself or with your dinner for as low as $4.99 a bottle.
The Gallo Family Vineyard Moscato wines can be purchased at local wine retailers as well as online at The Barrel Room. They retail at $4.99 for a 750ml bottle. These particular wines would make a great gift for mom this Mother's Day. Not only are they affordable, but it's different from your normal flowers and cards, plus what mom wouldn't want a nice glass of pink moscato while she unwinds in a nice hot bubble bath!
Make sure to follow Gallo Family Vineyards on their social media channels so you can stay current on the different wines they produce.
Website | Facebook | Twitter | Instagram
Then after mom drinks all her wine, you can turn her wine corks into cute little 3d printed animals.