Mother's Day is a day for all of us to show those special women in our lives just how much they mean to us. We can do this in several ways whether it be cooking them a nice meal, getting them some pretty flowers, or even having them a hand stamped necklace designed from Tracy Tayan Designs.
Tracy was raised in Hawaii and has a love for art, she has lived in 4 different states and has several degrees including a master's in education. Tracy is a former art teacher who followed her dreams and left the classroom. Tracy loves teaching, however, her passion for jewelry has lead her to become a full time jewelry designer and business owner.
I recently had the pleasure of working with Tracy and checking out her work first hand. I picked the I Love You To the Moon and Back Necklace, this necklace is sterling silver and half moon is hand stamped, it also came with a birthstone charm and a hand stamped initial charm.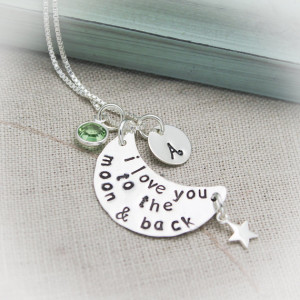 When I was browsing through her Etsy store, this particular necklace stuck out. So I had it done with my daughter's birthstone and her initial after all if it wasn't for her I wouldn't be a mom. I wanted something special to give to my daughter.
The package arrived extremely fast, and when I opened it the packaging was amazing. I could tell from the packaging that Tracy has a passion for art. Don't believe me? Check out the packaging…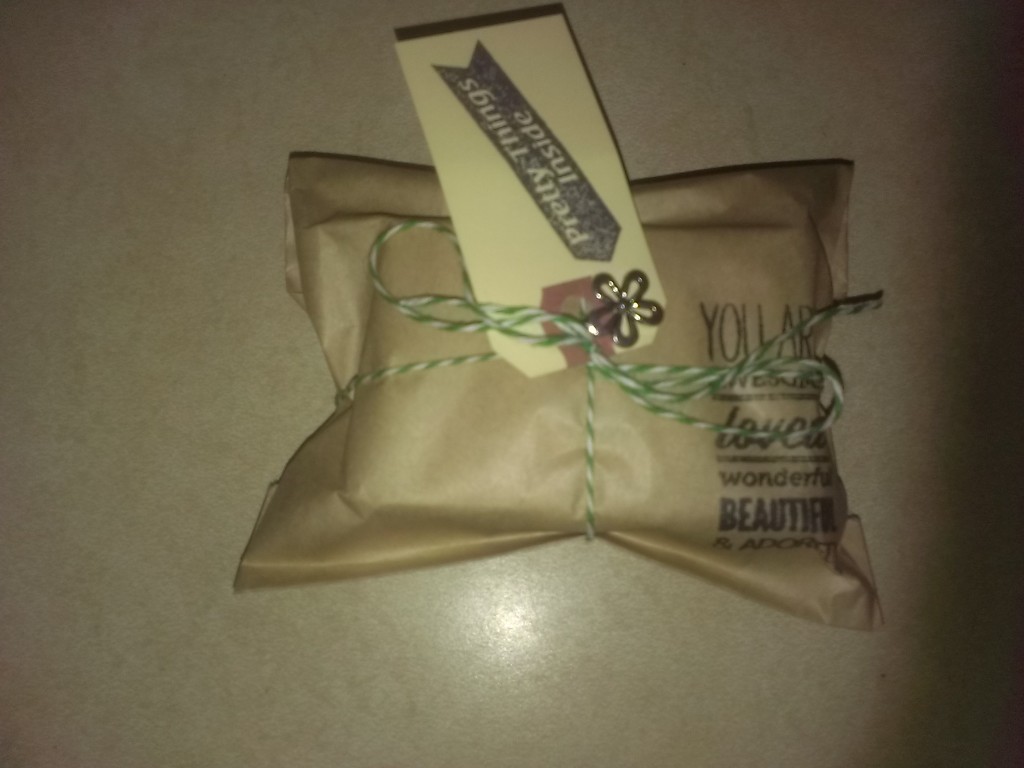 I love how she has packaged the box with the necklace, I also love how she has on the packaging "You are awesome loved wonderful beautiful & adored". The packaging is amazing, and I almost didn't want to open it. However, I knew if I wanted to see the amazing necklace I was going to have to untie the package.
Once I did and pulled out the box, I was in awe with how she had prepared the box.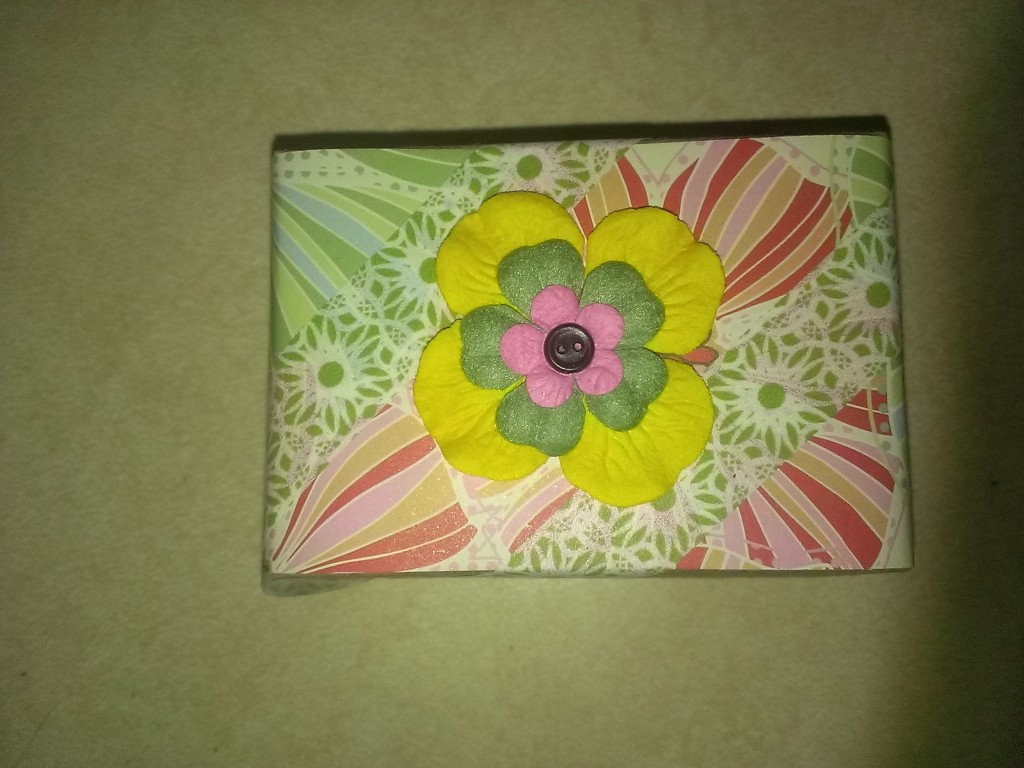 Super adorable, I could see right away Tracy had a talent for art. Once I got to the necklace I new it was perfect.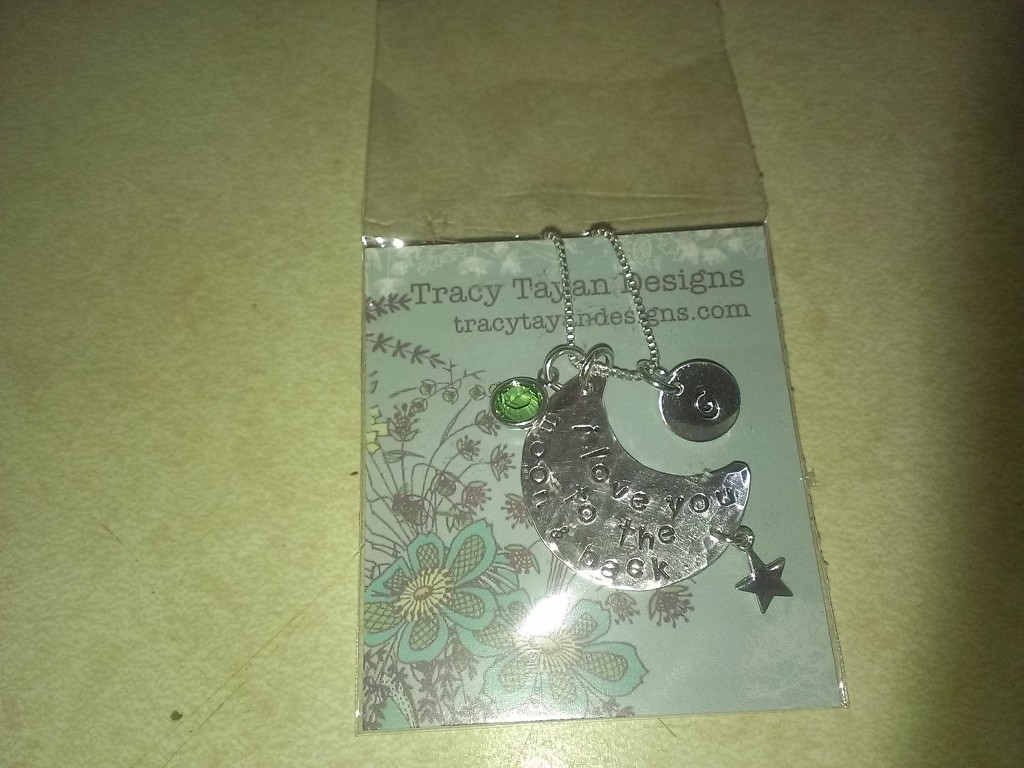 Inside the package was also instructions on how to care for our new necklace. Often times people will get jewelry and not realize they have to clean it.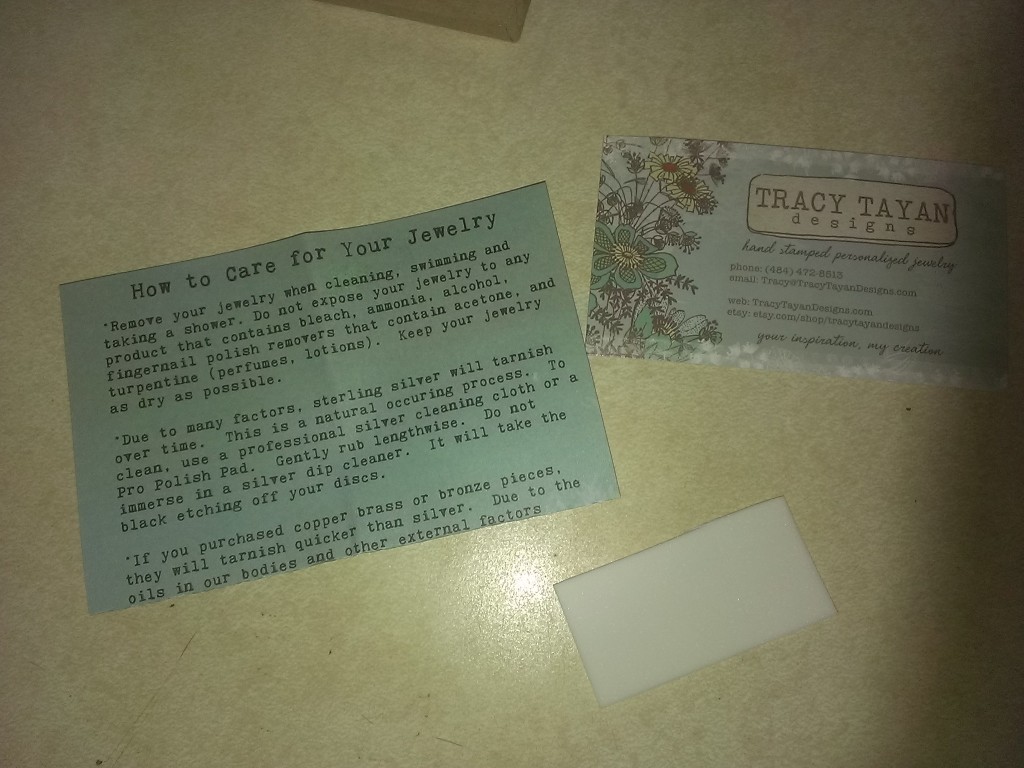 Tracy Tayan Designs has several different unique hand stamped customizable products that would be wonderful gifts this Mother's Day. The prices of her product varies depending on what you're looking for, but I have seen her work first hand and it's gorgeous. You can check her work out at her site here or her Etsy store here.
One lucky reader of The Neat Things in Life is going to have the opportunity of also being able to check out Tracy's work. Use Giveaway Tools Below to enter. Please note if you get anything over $50 it will be your responsibility to cover the balance.
I have taken moderation off, if you have an already approved comment, your comment should appear, if it doesn't please contact me. With the new spam plugin installed I want to make sure all real comments are getting through.