BIC is well known for many of their products. One of them being their line of school/office products. Over the years I have purchased many different products from BIC
and was never disappointed. When I was introduced to their new line of stationery products, and asked if I would be interested in reviewing some as well as host a giveaway, I had to say yes.
With loving the BIC line, I was super excited to check out their new products. I believe one can never have to many pens and/or pencils.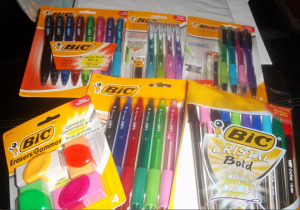 With being homeschoolers we go through a lot of pens and pencils! When I say a lot I mean a lot. Gillian likes sneaking my pens and using them to draw with, and at the same time she uses them to color with. Thus, leaving me with a no ink, ink pen! So when the package arrived, and I seen all the pens, I knew I would be set for awhile!
The products I received were:
• BIC Velocity® Bold Fashion Ball Pen, 8-Pack, Suggested Retail Price (SRP) $6.99
• BIC Cristal® Bold Fashion Ball Pen, 10-pack, SRP $2.19
• BU3 Grip Fashion Ball Pen, 8-pack, SRP $3.69
• BIC Erasers, 4-pack, $1.99
• BIC Atlantis® Fashion Mechanical Pencil, 4-pack, SRP $6.49
• BIC Clic Matic® Mechanical Pencil in Fashion Colors, 4-pack, SRP $3.70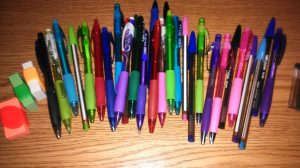 I judge a pen how it writes, if the writing is blah, I will not use it. The writing has to be smooth, I noticed with the BIC Velocity® the writing is amazing. I had to keep writing my name over and over again, because I loved how it wrote. I showed my husband, and he wanted one for his personal use. So I decided I would be nice and let him have just ONE. I also gave my daughter several for her personal use, so she has no need to grab mine.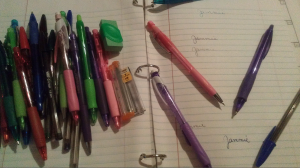 I love how the pencils are stylish, the writing is also smooth. When I was in school we mainly used the ones we had to sharpen. Talk about a pain, if the lead breaks you're having to get up and go sharpen it, while everyone in class stares. So having a stylish pencil, that you can click to get to the lead is a plus! My daughter loves the easy grip on the erasers!
BIC
has never failed us in any of their products, and I would recommend their new stationary line to all those heading back to school, or those working in the office.
One lucky reader of The Neat Things in Life is going to have a chance to win all the same products I sampled!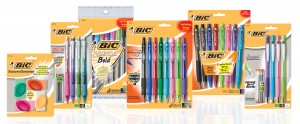 Giveaway is open to US Residents only
I received product for review purposes only, no other form of payment was received.