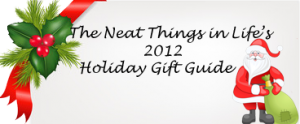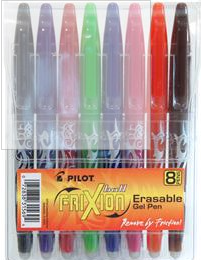 Pilot FriXion erasable ink pens make a great stocking stuffer! FriXion is designed with a heat-sensitive ink, which allows the ink to be erased with a little friction and without making a mess of your work. One great thing about these pens besides all the wonderful colors, is when left for to long the ink disappears! Yes, disappearing ink, this makes for some great fun with the kids. No worries for you adults that love these erasable pens, if your work disappears just place the document in the freezer and within know time you will see all your notes again. Pilot FriXion Erasable pens come in several different colors and range in price and can be purchased at stores such as Target, Staples.com and Amazon
. This is one stocking stuffer that will have the kids in awe.
———————————————————————————————————————————–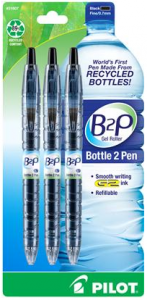 Pilot has gone green! For all those who love companies that go green the B2P (Bottle 2 Pen) from Pilot would make another great stocking stuffer. These pens are made from at least 86% recycled plastic bottles. You can get these pens in blue, black or red. Their bottle look will make anyone appreciate the fact they were made from recycled materials. The B2P pens range in price and can be purchased at stores such as Staples, Office Depot and Amazon
. Sometimes it is the small things in life that make a huge impact.
———————————————————————————————————————————–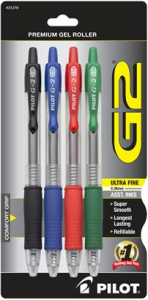 One can never have to many pens! Pilot G2 have been proven to last two times longer than other gel ink pens! The G2 pens come in multiple colors and four different point sizes. Whether you like your pens to have a ultra fine, extra fine, fine or bold point Pilot has you covered. With the G2 pens you will find smooth writing with no smear. Put a smile in someones stocking this holiday season with enough pens to last the year. The G2 pens range in price and can be purchased at stores such as Walmart, Target, Staples and Amazon
.
———————————————————————————————————————————–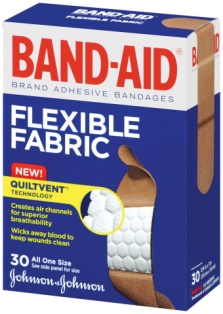 BAND-AID is a brand trusted by many to fix all those ouchies. During the holiday's is a great way to stock up on products we know our children will need through-out the year. Whether is be the band-aids that have the QUILTVENT Technology which will allow the wound to breathe while still protecting it from dirt and germs…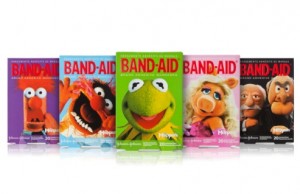 Or the cute Character band-aids that make those ouchies have style, and almost instantly turns those tears into smiles, such as The Muppet that feature all your favorite characters. BAND-AID has several different character band-aids that will make all kids excited to get their own band-aids in their stockings this year.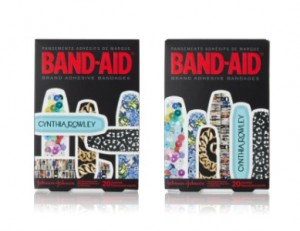 The Cynthia Rowley adhesive bandages would be great for the older kids, they come in fun and flirty designs such as lace, gold chains, sequins, and even a runway show design. You can purchase your favorite BAND-AID products at stores that carry first-aid supplies. You can never go wrong putting BAND-AID in the stockings of our loved ones.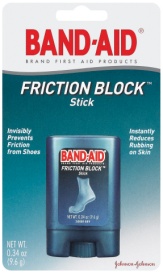 Don't forget the other products made by BAND-AID that are must haves such as the Band-Aid Friction Block Stick. With sports and other activities this is a must have product, with its lubricating formula that glides on smoothly it will help reduce the rubbing on your skin, and help prevent those hurtful blisters. You can never go wrong filling up those stockings with all the must have items, skip the candy this year, and give them useful items.———————————————————————————————————————————–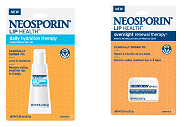 Neosporin is another trusted brand that would be a great addition to those stockings, with colder weather ahead it is time to prepare to keep those lips from chapping, if you have ever had chapped lips you know how much they can hurt, by keeping the brand and products you trust near by your lips will be thanking you.  NEOSPORIN LIP HEALTH Daily Hydration Therapy has SPF 20 for daytime use and NEOSPORIN LIP HEALTH Overnight Renewal Therapy works to restore softer, healthier lips while you sleep. These products retail for $4.99 and get be picked up at your favorite store that carries Neosporin products.
———————————————————————————————————————————–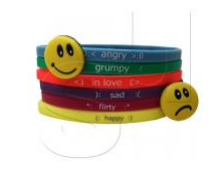 Do you know someone who has to update their facebook status every few hours? This holiday season add Status Update Bands to that list of the perfect stocking stuffers to give to those that have to let everyone know ever aspect of their lives. What perfect way to help them let the ones around them know how they're feeling every minute of the day. With several different sets to choice from you're sure to find a set that is perfect to the one receiving. You can purchase these bands via the Status Update Band site.
———————————————————————————————————————————–