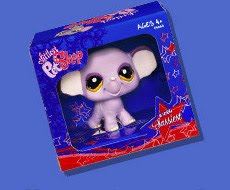 Hasbro has done it yet again. Made my daughter say "Mom I have to have that."
As you all may remember this past spring Hasbro had the Special Edition Koala. The only way you could receive this beautiful littlest pet was through the mail. Unless you wanted to pay a ton from ebay. Since I am a sucker for my dear daughter I made sure she got the Koala. You can read about it here.
Now Hasbro is at it again. They have a special edition elephant and the only way to get him is through the mail. So mom is at it again and we only have 2 more stickers to go until we can send off for this cute baby elephant.
Here is how it works. First you have to buy a Littlest Pet Journal and it comes with a littlest pet. In the back of this journal you will see the sticker page. You will need to tear this page out and put it in a safe place so once you get a new sticker you can add it to the page. Once you have all six stickers filled in on the page you can send it off to Hasbro.
This offer expires December 31, 2009. Delivery of this little guy will take 10 to 12 weeks. There is a limited number and I believe like the Koala it is based on first serve basis. So hurry hurry make sure your little pet shop lover gets this limited edition elephant.