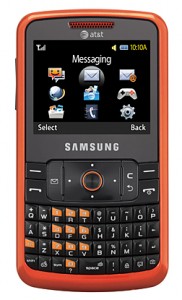 I recently got an email from AT&T saying our contract was up and since we was prefer customers we could get 50 dollars off certain phones. I talked with my husband about renewing our contract and getting new phones and he was all for it. We like to text so a phone with a keyboard was what we was looking for.
The only phone on AT&T with full keyboard for free was the Samsung Magnet. Well let me rephrase the only one we could get for free was with the 50 dollar instant rebate was the Magnet. The phone retails through AT&T without a contract for 199$. My personal opinion not worth it.
Pros: When I talk to people with this phone the call is crystal clear, unlike my old phone. It has a full keyboard, pretty easy to navigate. Over all it is not a bad phone..
However there is…
Cons: No thread texting. I miss that already, love the thread texting. The bluetooth well lets just say why did they bother adding it. In order to bluetooth you have to both have compatiable headsets. No phone to phone bluetoothing that means all my ringtones on my other phone are worthless.
I guess in time I will get use to this phone but as of right now I am not pleased. The pictures taken outside with this phone are pretty clear. The ones inside not the best.
If someone was to ask me about a good phone to get this would not be on the recommandation list.
Also the AT&T rep I spoke with on the phone adviced me to switch sim cards she said we would get better reception since the others was 2 years old. Well she was incorrect we got better signal with other phones.
Next time I will do better search on a phone before I jump into anything.