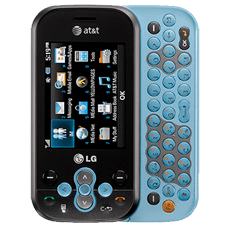 Recently we decided to add our daughter to our cell phone plan. This phone will mostly be used for text messaging. Recently, my husband and I had got Samsung Magnets, and they was not the phones for us.
We both was extremely disappointed in those phones. So when it came time to get our daughter her very first cell phone, we wanted something that she would LOVE. We decided on getting her the LG Neon GT365.
I had read several reviews on how this was a good phone for children, and I would have to say the reviews are correct. Our 8 year old daughter has no problems navigating into different areas of this phone.
It does bug me a bit that she can connect this to the internet, I do have the block on content, as well as the downloads. However, I do not think it is working or I am expecting it to block more then it is. I have tried to make the button do something else, but it seems you can not, or I am not looking in the right area.
The LG Neon Key Features Include:
Touch Screen for dialing only
Blue Tooth Connectivity
Music Player
2.0 MP Digital Camera with Camcorder
MicroSD card slot. Which holds up to a 4 gig card
A QWERTY Keyboard.
Pros:
This phone does offer threaded text messaging. You can have it either way on or off.
This phone has a memory card slot and will hold up to a 4 gig card. That is a lot of pictures you can take
The camera on this phone is pretty good. The picture came out crystal clear when taken outside. However, the inside pictures are not as great, but that has to do with the lighting.
It has a music player on it, great for the kids for sure.
This phone also has a rotation screen which makes texting easier.
Cons:
How the texting works. I wish it would all stay open instead of having to leave the texting thread after you text. With the Palms the threaded texting is just like a chat room. Also, I do not like how easy it is to connect to the internet on this phone. My daughter has hit the button several times and I have to quickly exit out of it. I am sure in time she will learn not to hit that button.
Overall this is an excellent phone for a tween. I am very pleased and happy with the choice we made on getting Gillian her own phone. This phone also gets very good reception.