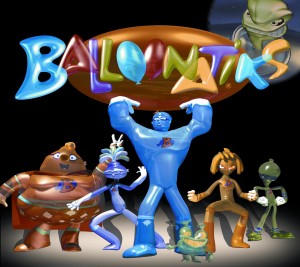 When we first got the Balloonatiks: The Collector's Set Dvd in the mail my daughter kind of snubbed her nose at it. I guess it was not her "thing". I however convinced her to watch it with me.
As we was watching it I noticed her crack a grin here and there and then she just started laughing. Balloonatiks is gears towards children from 3 to 8.
After we was done watching it I asked Gillian what she thought of it she said she loved it and it was better then a few other cartoons she watches. She was a bit bummed though that there was only 3 episodes she was wanting to watch more.
I also asked her who she liked the best, and of course she said Squeeker, I liked them all!!! I think the whole aspect of balloon superheros is super cute. Most children love balloons anyways so this is perfect.
A little about Balloonatiks:
Balloonatiks: The Collector's Set is highlighted by the acclaimed voice talents of the internationally renowned actor and multi-tongued voice artist, Mark Hamill; Debi Derryberry, the voice of Jimmy Neutron; and Billy West, most known for several characters on Futurama. The Balloonatiks theme song was performed by Ray Parker Jr., who is most known for writing and performing the Ghostbusters theme song.
The Collector's Set will be available for purchase on Amazon.com, July 15. Suggested retail price is 14.95. However, you can win a copy right here.
Win a copy of Balloonatiks: The Collector's set by heading over to the Balloonatiks site and tell me something you learned. This is mandatory. Don't forget to check out hot air city while you are over there.
Want more chances to win?
2.) Like Balloonatiks on facebook, and tell them I sent ya. (2 extra)
3.) Become a google friend. (2 extra)
4.) Subscribe to The Neat Things In Life (2 extra)
5.) Follow me on twitter. (2 extra)
6.) Tweet the giveaway it can be done daily.
Enter to win Balloonatiks: The Collector's Set DVD  http://bit.ly/aeBuwM @Jammie79
This giveaway will close on June 29th @ 11:59pm CST. I will pick a winner via "And the winner is. Plug-in". I will contact the winner via email and they will have 48 hours to claim their prize. Giveaway is open to USA residents that are 18 and older.
Disclosure: I received this product free for review purposes. Everything in this post is 100% my own opinion.
Your Winner
Author: Georgiana O.
Comment:
I tweeted about the giveaway @agape4gigi. http://twitter.com/agape4gigi/status/17152398520