Recently I had the opportunity to do a review on CSN Stores. We received $60 SC for a one time use. With being home schoolers and the new school year here I wanted to do a review on something school related.
So I chose a few different items in the "Science and Arts" area, that I new Gillian would have fun doing.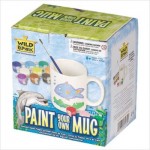 First item I chose was the Wild Republic Paint Your Own Mug!!! I was not expecting all the paints that came with this product. Gillian had several colors to pick from when painting her master piece. I kind of wish that, the paint didn't dry so fast so when a young child messes up it can be easily wiped off and fixed.
The Wild Republic Paint Your Own Mug would make a great fun art project for home schoolers, or for your children to do on a rainy day.
Next I went and picked out the Melissa and Doug DYO Piggy Bank Arts and Crafts kit,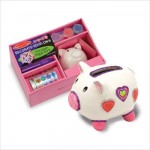 one thing Gillian loves is painting and doing different fun crafts. If I keep enough things around the house for her to do, I do not need to hear her say shes bored. Can't be bored with a ton of activities to do can you? She can. The piggy bank was a lot smaller then what I was expecting. However, she had a blast painting it. Again the only complaint I had on this is I wish the paint was easier to wipe off in case of mess ups. I ended up having to take rubbing alcohol to it a few time so she could redo. I forgot to explain to her she gets no redos so do it right the first time.
Both items would make great activities for the kids to do, to give grandpa and grandma a special Christmas gift.
The next two items I received was Science items, Gillian is HUGE into Science. Out of all subject Science and Math are her favorite ones. So I wanted to get her something fun to do, the items I picked was…
Smithsonian Mega Science Lab I wanted something with several different activities to do. Out of this set the one Gillian had the most fun with was the exploring for dino bones. She had so much fun she is begging me to order more of them. I can not argue with getting her educational items now can I.
The crystal growing for us did not work. In the directions it states to boil water then dissolve the seeds in the water. However, the container in this kit does not like boiling water, it ended up melting the container so I had to add it to a different one and it was too big. We still have to paint the world and catch some ants for her ant hill. That should be fun. :)
The Volcano turned out neat looking, but when it comes time to explode the volcano the directions I think have you use to much baking soda. Since the first time doing this we have reduce the amount of baking soda so we have a better effect.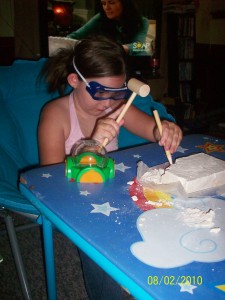 Last item was the Slinky Slime Science Kit. Gillian was very excited to see  water, borax and guar gum make slime. This kit comes with 5 different slime recipes to make. We have made sewer slime, and power putty. We added a little food coloring to give it a colorful look. Over all this slime is very simple to make, doesn't take a lot of items, and not only will the kids have a neat little science lesson they will also have hours of fun. Mom's be prepared to hear "Can we make more". This kit also comes with different ideas on how to put more science into the activity.
I was very well pleased with all items, as stated above we was given store credit to conduct this review. Everything stated in this post is 100% my own opinion, just because something did not work for me doesn't mean it will not work for you.