Recently we were one of the families picked to be a part of the Mom Select ZhuZhu Wild Bunch house party. Woohoo we got super excited. With Gillian's birthday being Saturday, it fell in perfectly. She had decided she wanted a Zhu Zhu birthday cake before we even found out that we were one of the ones selected for the Wild Bunch house party.
What we received for the Wild Bunch party was 11 Wild Bunch Zhu Zhu Pets, Bucket of chalk, and a packet that was full of game ideas and easy recipes for great party fun.
We had invited more children, but due to church, some could not come. That is good news for y'all. Why you ask? Well, this means I have a few pranksters to giveaway woohoo. We love these pranksters. They are tricky at times. You know that stinker was stinking up the kids at the party.  I will tell you about that in a bit.
After all the children got here, I let them play for a bit. We got a surprise and ended up with a bounce house thanks to PlayLand Moon Bounce. This was a surprise and the kids had a ball.
Then I broke out some yummy food. Of course, you know how kids are and NONE of them ate. That is okay the adults thought the ZhuZhu Prankster Pizzas was yummy and cute.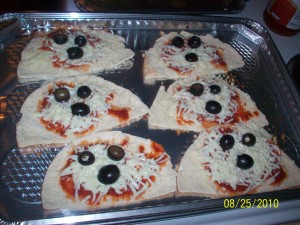 After eating, I had all the kids come from the bounce house and we played a Hot Wild Bunch, we used stinker. I wish I had taken pictures of the game, but I was busy tending to the music and I forgot. I am so sorry. We passed stinker around the circle. When the music stopped who ever had, stinker was out. We continued until we were only down to one child. The child left got a prize. Of course, the prize was a cute wild bunch prankster for them to take home.  We played several times, the kids all loved it, and even some of the adults joined in.
After playing the games, we had some yummy cake and ice cream.
The rest of the evening, the kids played with their zhuzhu pets. Total to come to the zhuzhu party, 6 children and 7 adults.
Now since some of the Kids was unable to attend I have a few Zhu Zhu Wild Bunch pets to giveaway. However, this one will be done a bit differently. I will be the one shipping the cute little guys. So we are going to do this a bit different. I have Stinker the Skunk and Rocco the Raccoon to giveaway. HOWEVER, since it Gillian's Birthday she will be the one picking based on the comment left. So make sure you leave a good comment this is a 9 year old picking. :). I will print out the comments, and let her read them and then she will tell me who she thinks should get these cute little guys.
Mandatory Entry: There is none, just leave whatever you want. Guess what you can even leave as many as you want. Want to change your name and enter more go for it. THIS IS THE ONLY TIME YOU WILL BE ABLE TO CHANGE YOUR NAME AND ENTER MORE. Remember you are trying to win some pranksters lets be a prankster ourselves and trick her here.
If you would like to be nice you can become a google follower, network blog follower, and or fan. But this is NOT required. Have fun and good luck.
Giveaway will run until September 13th, @ 11:59pm CST. USA only please, also remember Gillian will have to read all the comments so please give her some time. Once she has picked the ones she thinks should get these cute guys I will then email them and they will have 48 hours to contact me back with their address. If for some reason the person/s does not get back with me I will use random to pick. Good Luck all be creative.
Disclaimer as stated above we received these products for a in home wild bunch party from Mom Select.
Gillian picked Julia and Hannah.
Her reasons for picking Julia was she wanted her to play a trick on her daughter, since we always trick her, and Hannah was picked because she likes Hannah Montana.