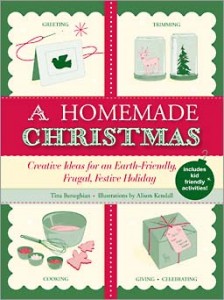 With the economy being yucky, and money being tight in the pocket book, it doesn't mean Christmas has to be small. Christmas is not about how much one spends on a gift, but rather the time we spend together as a family. In our home we buy only for the children, then for the adults I will make some good eats.
A Homemade Christmas by Tina Barseghian, is the perfect book for all those that are lost on what to get everyone for Christmas on a tight budget. Tina Barseghian has everything in her book from how to create personal holiday greeting cards, to making those memorable homemade dishes.
What I Thought:
One thing I found I loved the best about this book is, she has many kid friendly projects that you can sit down and do with the kids. Some of the best gifts I have ever received was gifts made from the heart. I love the fact that these simple instructions do not take a rocket scientist to figure out.
I dislike doing crafts where the directions are so difficult to understand.
One of my favorite parts of The Homemade Christmas is her environment friendly ways to wrap your gifts. Not only are you being very frugal, but you are also helping recycle products that would probably end up in the landfills. This book is a win, win for everyone, the environment, your pocket book, and the special person receiving the homemade gift you made for them.
The Homemade Christmas retails for $14.95 and can be purchased at most book stores!
Disclaimer: I received a copy of this book from Harlequin for review purposes only, no other form of payment was received, this is my honest opinion, your opinion may vary.