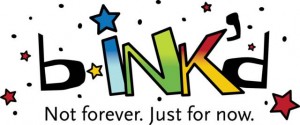 Do you have children that are wanting their ears pierced, but you are a bit iffy on whether they are old enough? Thanks to bINK'd your kids can get the ears pierced look with out the holes, or the chance of the ear hole getting infected!
bINK'd was created by a mom, wanting to have the ear piercing look, but not have the danger, or the commitment!
More About bINK'd:
bINK'd temporary tattoo earrings were developed by a Mom out of the desire to provide the look of traditional earrings without the commitment and dangers of actual piercing. "Looking pretty shouldn't be painful."

After playing around with some designs she quickly realized that they are more than just a way to replace traditional earrings, they are a lot of fun and allow girls and boys to express themselves. Plus, you can use on your nails, dolls, toy cars, face, just about anywhere!
bINK'd temporary tattoo earrings, are a fun way for kids to express themselves with out the painful holes. They come in multiple designs, and in cute stack-able containers. Each container contains 12 temporary tattoos, that is about for 6 different sets, OR 1 set on your ears and the other 10 on your nails.
You maybe thinking to yourself, is this even safe for my child's ears? Well, thanks to bINK'd they have answers to most your questions. You can find all of the faq on the bINK'd website. Below is a few to answer some of your questions.
Are bINK'd temporary tattoo earrings safe on the skin?
All are safe and use FDA approved inks/adhesive to transfer onto the skin. For ingredients and more info go to www.tattoosafety.net
How long do bINK'd temporary tattoo earrings last?
Our high quality temporary tattoo earrings can last up to 7 days. Multiple bink'd earrings are provided so that you may replace image as needed. (Also, use on dolls, toy cars, nails, face, etc.) For extended wear minimal touching of the image is suggested. When using on nails a clear top coat will prevent the image from wear.
Kid Safe Ink?
We use only FDA approved vegetable based inks*. However, if you/your child have sensitive skin do not use.
What I Thought:
I love the whole idea behind bINK'd. Gillian does have her ears some what pierced, she got them pierced many years ago. However, she doesn't wear earrings, because most cause her ears to turn red, and I can not have her ears getting infected.
bINK'd temporary tattoos are easy to apply. Gillian was putting them on herself. I love how they are made in the USA, and that they come in several different designs! Another great thing about these earrings, is they was designed by a MOM. Yes, I love seeing moms make kid friendly products that make our lives easier.
bINK'd temporary tattoos are priced from $5.95 to $6.95, and come in several designs. These would make great stocking stuffers for both little girls, and little boys.Some designs include the ones below.




Connect With bINK'd:
Website: http://www.binkdkids.com/
Want to win some bINK'd products for those stockings this Christmas? One lucky reader will win a purse and 2 sets of bINK'd temporary tattoo. Color of purse may vary.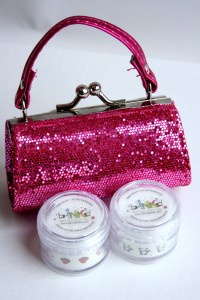 Mandatory: Head over to bINK'd and let me know which two you would like if you won.
Want Extra?
2.) Let me know something you learned from the bINK'd site. (1 extra)
3.) Fan The Neat Things in Life on facebook. (2 extra on the right hand side)
4.) Become a google friend (2 extra)
5.) Follow me on twitter. (2 extra)
6.) Become a network blog follower (2 extra right hand side)
7.) Tweet the giveaway. (1 extra and can be done daily for more entries)
Enter to win bINK'd temp tattoo earrings, just in time for the holidays @Jammie79 http://www.theneatthingsinlife.com/?p=3485
Giveaway is open to US residents 18+ and will end on December 2nd at 11:59cst. Winner will be drawn via wordpress plugin "And the winner is.." The winner will have 48 hours to respond to the email or a new winner will be drawn.
Disclosure: I received the Kit and Caboodle Kit to review, no other form of payment was received. Above is my honest opinion.