Hasbro doesn't just make games, or Littlest Pet Shop toys, that has been a favorite in our home for many years, they also make action figures for boys, or in my case girls that love all things Hasbro.
When making those Christmas lists be sure to check out the great action figures, such as Star Wars Action Figures WITH GALACTIC BATTLE GAME, Transformers Power Core Combiners 2-PACK and the Spider-Man 3 INCH ACTION FIGURES.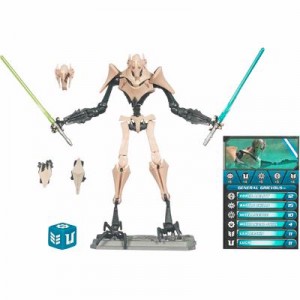 Star Wars Action Figures:
(Approximate Retail Price: $6.99; Ages: 4 & up; Available now)
STAR WARS fans, prepare to battle your friends in head-to-head action
and unlock the hidden powers of your favorite action figures. In 2010,
a wide selection of Hasbro's STAR WARS 3¾ inch action figures will
include the all-new STAR WARS ACTION FIGURES WITH GALACTIC
BATTLE GAME. Each figure is packaged with a competitive gaming base,
a unique battle attributes card and a die to play the game, allowing kids
to interact with their STAR WARS action figures in a whole new way.
Game on!
Transformers Power Core Combiners 2-PACK:
(Approximate Retail Price: $9.99 – $19.99; Ages 5 & up; Available now)
The TRANSFORMERS POWER CORE COMBINERS introduce fans to an allnew
assortment of figures that expand on the classic TRANSFORMERS play
pattern. This new expression of figures combine with one another, in dozens of
variations, to create a wide variety of larger COMBINER robots, with each figure
serving as various body parts and weapons. Available in 2-packs and 5-packs.
My Opinion:
My husband has got our daughter into playing with action figures, they call it "collecting". I beg to differ with them though, they BOTH play with them. We received both items pictured above for review, and when we received them in the mail, my husband and daughter got right to playing. Okay I won't lie, so did I. I had to figure out the Transformer Power Core, yes I love the Transformer Movies, I am not a fan of Star Wars though.
My husband has claimed the Star Wars figure, and my daughter took over the transformer, so that just leaves mom sitting on the sideline cheering them on.
Action figures are a great way to bring out creativity in those little boys. Girls, got barbies, and dolls, the boys have trucks, and action figures. I do NOT recommend these to younger children who put items in their mouths, these products may contain small objects that may cause choking.
Hasbro Action Figures make both great gifts, and great stocking stuffers for both boys, and girls that love all this Hasbro!
Disclosure: As stated above I received product for review, no other form of payment was received.