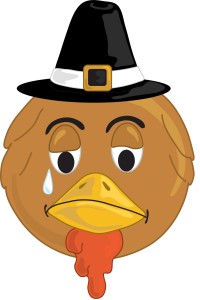 Pumpkin pie is like by far my favorite pie. So no pumpkin pie for Thanksgiving would be a sad Thanksgiving. However, the price to make pies can be a bit much,so the other day when I went shopping, I compared prices of what it would cost to make pumpkin pies, to the ones already done, only needing to be baked in the oven. Well the pre-made won by a few dollars.
So with my Mrs. Smith pumpkin pies in the cart, I finished shopping and checked out. When I got home my husband decided he wanted to eat one of the pies now, and save one for the big feast.
In the oven it went and when it came out I was excited because, it has been some time since we had pumpkin pie. From the first bite, I wished I would have bought the stuff to make my own pies, Mrs. Smith was not cutting it!
So I decided I wanted to do a pumpkin cheesecake. I have never made a home made cheesecake, so off to google I went. First recipe to pop up was Pumpkin Cheesecake by Paula Deen!
I love Ms. Paula Deen, so this was the cheesecake I was making. However, I did mine a tad different then hers, this will have less calories per serving.
Pumpkin Cheesecake (My way! For the Paula Deen recipe you can goto the Food Networks website)
3 (8-ounce) packages cream cheese, at room temperature
1 (15-ounce) Libby's canned pumpkin
4 eggs
1/4 cup sour cream
1/2 cups sugar
1 cup Stevia
2 teaspoon pumpkin spices
2 tablespoon all-purpose flour
1 teaspoon vanilla extract
2 Pre-made Graham Cracker Pie Crusts
Pre-Heat the oven to 350F
Make sure you are working with cream cheese at room temperature or it will not beat well. Beat cream cheese until it is smooth, then add your canned pumpkin, eggs, sugar, stevia, sour cream and spices. Mix well, then add the flour, and vanilla. Once it is all mixed well divide into both the cheesecake crusts. Bake for about 30 minutes, once done let sit for 15 minutes, I then placed in the freezer to chill faster to sample! Turned out GREAT!
The original recipe states to use a springform pan, well I am not all that fancy so I do not have one. I almost goofed and left in the oven for an hour! These cheesecakes are not as thick as the original recipe so they do not bake as long. I almost learned the hard way!
Disclosure: My camera sucks, so I am sorry the pictures did not turn out the best.