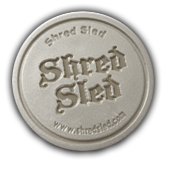 About Shred Sled:
Based in Saddle River, NJ, The Shred Sled® is the next generation of extreme sports. The first of its kind, The Shred Sled® is a 4-wheel inline, dual-deck caster board. Riding The Shred Sled® combines the experience of snowboarding, skateboarding and surfing into a new sport based on two decks, connected by a flexible middle component, that revolve around horizontal and vertical axes. All  components of The Shred Sled® have been greatly improved from older 2-wheel models including four 80mm polyurethane wheels, aluminum casters, ABEC-5 bearings and concave decks for better foot control.
With Christmas just around the corner it is time to start shopping if you have not already started. We recently had the chance to check out both products shred sled makes, the Shred Sled, and the Shox Scooter!
About the Shred Sled:
Get 'on board' with The Shred Sled, the next generation caster board that combines the movements of snowboarding, surfing and skateboarding all into one unique experience!  The Shred Sled is the first 4-wheel inline, dual-deck board that makes it smoother and easier for kids and adults to ride.  The board's flexible connector allows both decks to rotate around the vertical and horizontal axes so it's easy to maneuver.  Each deck has a grip surface to maximize traction and stability, while the concave decks make for better foot control.  And that's not all – instead of pushing off the board like a regular skateboard, riders use their hips, legs and arms to move the board, similar to movements used to propel surfboards and snowboards.  The Shred Sled's 4 x 80mm polyurethane wheels and ABEC-5 bearings are smoother and stronger than standard hardware and rarely need to be replaced. Also, the board's aluminum casters surpass the quality of older boards' metal casters which can rust.  Boards are available in one of three colors: black, blue or red.
What I Thought:
Scary! That is what I thought. My daughter got her first skateboard last year, she loves it. She doesn't do tricks or nothing, but gets on it and goes back and forth. So I thought she would like this, WRONG! We managed to get her on it a few times, with standing up to daddy, but she is a bit to scared. Hopefully in time she will be riding this like a pro.
Since receiving this in the mail she has been doing what the Shred Sled company recommends new riders to do, which is to use the wall to help you balance and get the hang of it. She is getting a bit braver. My husband also got on the board to try it out, he was a big skateboarder when he was younger, and one thing he said was it is a bit harder then riding a board. He even has his friends over checking out the Shred Sled. The Shred Sled would make a great gift for those that love to skateboard, surf, and snowboard, this is like a all in one board!
The Shred Sled is recommend for ages 8 and up, and retails for $79.99. You can purchase the Shred Sled at stores such as Sears, Kmart, and Toysrus. You can few a list of retailers who sell the Shred Sled products on the Shred Sled site.
The second product made by Shred Sled is the Shox Scooter.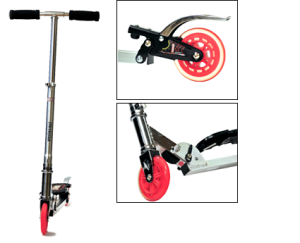 About The Shox Scooter:
The Shox Scooter, is recommended for kids ages 5 and up, and retails for $59.99

Prepare to be "shocked" by the Shox Scooter®, the first-ever active shock absorber scooter that allows riders to perform higher, faster, more awesome tricks!  Unlike traditional scooters, the Shox Scooter's supreme shocks increase a rider's speed and air-time, making stunts bigger and better.  The Shox Scooter is built with a new, innovative spring shock deck that not only absorbs impact when landing jumps and stunts, but also springs back to increase the rider's power.  The deck's rough grip surface provides excellent foot control and traction while performing tricks.  Also, the scooter's sturdy back brake further enhances control and safety while riding.  Comfortable, easy-to-grip black foam handles adjust to various heights, accommodating children of all sizes.  The Shox Scooter is built from lightweight aluminum, designed to increase speed, and make traveling easier.  And, the scooter conveniently folds in half, making storage quick and easy so kids can take them everywhere.
What I Thought:
I love how the shox scooter folds up, this lets us pack it easily in the car when going camping, this also makes for easy storing. The light weight scooter, also means she can carry it to the car, so if it gets left behind it is on her not mom or dad.
Since receiving the Shox Scooter in the mail Gillian has been "practicing" through out the house. Yes, I let my 9 year old ride this scooter in the house. Gillian, loves having races with her friend, who has a different brand scooter, to see who will win, so far they are about tied.
One of my favorite features on the shox scooter is the brake on the back, this insures me some that she will be able to stop if she is about to crash into something, that is not made to crash into.
I personally think both products are made well, and I can see Gillian, getting several years of play out of both the Shred Sled, and the Shox Scooter, if not I know daddy will.
Connect With Shred Sled:
Website: http://www.shredsled.com
Twitter: http://twitter.com/theshredsled
Facebook: http://www.facebook.com/pages/The-Shred-Sled/117276256977
YouTube: http://www.youtube.com/therealshredsled
As stated above you can purchase Shred Sled products at selected retailers.
Disclaimer: I received both products for the purpose of this review, no other form of payment was received. Receiving these products did not alter my opinion on them. This is my honest opinion, others may vary.