Have you ever stop to think about how much soda you consume in a day? Do you know how many calories are in just 8 ounces of your favorite soda? My favorite soda at one time was Pepsi, in 8 ounces there is about 100 calories. So if I was to have 4 glasses of soda it would be 400 calories, 400 calories is around about what one should have for lunch. So soda is empty calories, and by drinking soda it takes away from the calories you should be in-taking at meals.
There once was a time when I would drink over a 2liter of soda a day! Yes over a 2 liter, do you know how many calories in a 2 liter bottle of pepsi? Around about 850 calories, I was drinking that plus some in a day! Crazy huh, well I know I am not the only one that can down a  2 liter of soda with no problem, come on fess up, you know you can as well. Anyhow, almost a year ago, I put down the soda bottle and turned on the tap water. I will be honest, when I thought about water, I wanted to barf, matter of fact I was drinking so much water I felt sick to my stomach, but when all you in take is water, your body starts to crave it. Now almost all I will drink is water. I do have a soda every so often, but most the time I would rather have my water.
Recently, I had the chance to check out the Soda Stream. I was extremely interested in checking out the soda stream, because I had heard a lot about the product. However, I was a bit iffy, and the reason is because I was under the impression that it was sweetened with aspartame. To my surprise it is not! The regular flavors do have some sugar in them, and the diet is sweetened with splenda.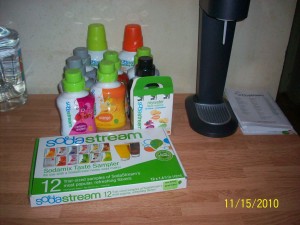 One thing I liked about the Soda Stream is even the regular sodas that you can make have so much less calories. I have a hard time getting my daughter to drink water, so by making our own soda at home she is getting a lot less calorie intake from her drinking. Her favorite out of all the flavors was the Fountain Mist, mine was the Zero Cola! You can see from the images below, 8 ounces of Fountain Mist only has 35 calories as to 8 ounces of Mountain Dew has 110 calories. Mountain Dew has almost TRIPLE the amount of calories.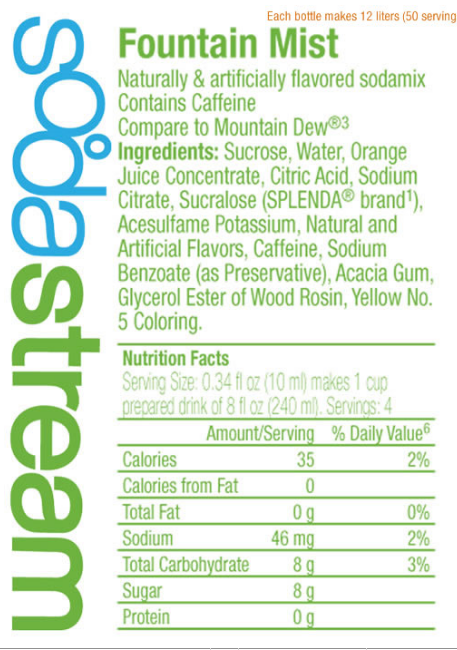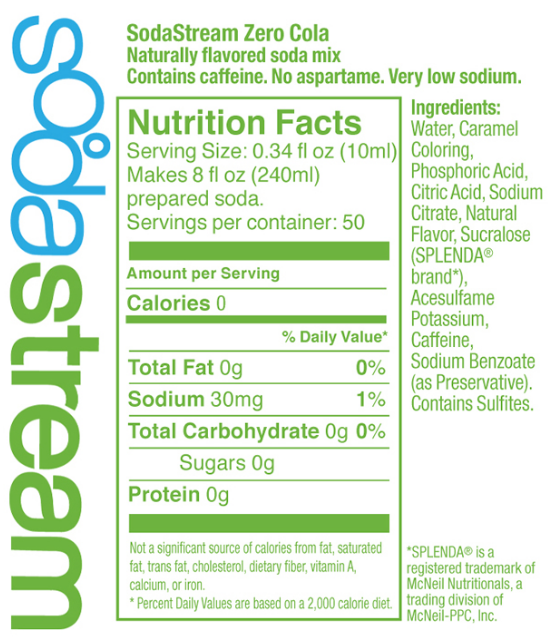 I was surprised on how well Zero Cola tasted, because I can not stomach diet soda, of any flavor.
Another great thing about the Soda Stream is they have so many retailers, that getting a refill on the carbonators is very convenient. You can find a list of the retailers, and what they do on the Soda Stream site, some retailers only sell the actual Soda Stream, as to others may do refills of your tanks, and sell the different flavors, so it is important that you do just the site or call the store to see if they offer what you are looking for.
I learned 2 lessons about the soda stream the hard way, one once you have the carbonation in the bottle DO NOT attempt to add more if you have removed it from the system, this will cause you do get soaked in soda! I told my husband I shouldn't try to add more he assured me it would be fine, haha I wore the soda I had just made. Another thing, be careful when adding carbonation, too much will give you a stomachache not enough will taste yucky. I do about 4 pushes and call it good.
Overall I love the Soda Stream, and I have already referred friends, and family to making the purchase not only will it save your waistline, but it will also save you a bit on the wallet. The Soda Stream is great for family events as well!
Soda Stream has also just introduced Sparkling Naturals!
About Sparkling Naturals:
Made from all-natural ingredients, new SodaStream Sparkling Naturals make great-tasting "better for you" sodas. Sparkling Naturals contain no artificial flavors, no artificial colors and no artificial sweeteners, and do not contain any preservatives, making them a perfect, sparkling, natural soda alternative for the entire family. Each 750ml bottle of Sparkling Natural concentrate will make 6 liters (approximately 25 8-oz servings) of all-natural soda.
Sparking Naturals come in 4 flavors Apple Mango, Pink Grapefruit, Orange Pineapple, and Lemon Lime. I personally likes Apple Mango the best! However, these new flavors do have a bit more calories, but they are all natural flavoring.
Purchase The Soda Stream:
The Soda Stream and other products for the Soda Stream can be purchased at stores such as Macy's, Sears, Bed Bath & Beyond and a few others. Prices on these products vary from $4.99 and up to $199.99.
Connect With Soda Stream:
Website: http://www.sodastreamusa.com/
Facebook: http://www.facebook.com/#!/SodaStream
Twitter: http://www.twitter.com/sodastreamUSA
Disclosure: My family received the Soda Stream as well as many other product samples for review purposes only, no other form of payment was received, and all opinions stated are my own personal opinion, yours may vary.