WEIGHT WATCHERS NEW COMPLETE COOKBOOK, 4th Edition has been completely revised and updated to reflect the way Americans are eating today. Packed with 500 delicious and nutrition-conscious recipes, this new edition of the cookbook helps people stay on track and achieve their weight management goals, including information and values for those following the new PointsPlusT program.

Home cooks will find recipes from the simple and satisfying Smoky Grilled Brisket and Creamy Mashed Potatoes to new classics like Carmelized Onion, Fig and Stilton Pizza and Tempeh, Sweet Onion, and Mushroom Chili, there are plenty of fresh ideas for breakfast, lunch, dinner and everything in between. A new chapter with slow cooker recipes makes preparing a healthy meal easier than ever, and all recipes include more whole grains and vegetables for meals that can help you stay fuller longer.

This comprehensive guide has everything needed to cook and eat in a healthier way:
o Hundreds of tips throughout offer guidance in the kitchen and more detailed information on ingredients and preparation
o Helpful how-to sidebars demystify techniques with detailed step-by-step instructions and images that demonstrate critical steps
o Complete nutritional information, including PointsPlus values, included with every recipe
o New skill level icons identify which recipes are basic, intermediate and advanced
With the kitchen becoming more and more my friend, I love having all kinds of recipes I can go to, to help me plan my weekly cooking menu. Not only does home cooking taste better, but it is also better for you!
I recently, got to add the Weight Watchers New Complete Cookbook, to my collection of go to cookbooks. When I first got the cookbook in the mail, I flipped through it, and right off the bat seen some recipes I had to try. They have a recipe for double apple strudel, cheddar-stuffed burgers, creamed spinach, they even got recipes for yummy home made ice cream!
One thing I noticed right away, is this cookbook has everything broke down for you, how many calories per serving (awesome for me since I am counting those calories), it also shows the grams of fat, carb, sugar, fiber, and the point plus value.
I picked three recipes from the Cookbook, to check out, I am big into bread, so I picked Classic Sticky Buns, No-Knead Whole Wheat Bread, and Barbecue-Sauced Grilled Chicken!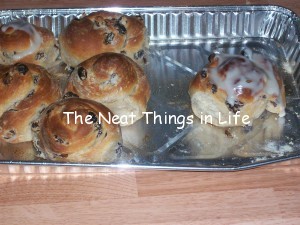 Classic Sticky Buns (makes 8)
1 package active dry yeast
2 tablespoons warm water (105-115F)
1/2 cup fat-free milk, warmed (105-115F)
1 large egg
1 tablespoon unsalted butter, melted
2 1/4 cups all-purpose flour
3 tablespoons granulated sugar
1 1/2 teaspoons ground cinnamon
1/2 teaspoon salt
1/2 cup dark raisins
2 teaspoons fat-free milk
1/4 cup confectioners sugar
1 1/2 teaspoon water
1/2 teaspoon vanilla extract
1. Sprinkle yeast over water in cup, stirring to dissolve. Let stand until foamy, about 5 minutes.
2. Stir together 2 tablespoons of warm milk, the egg, and butter in small bowl. Combine flour, granulated sugar, cinnamon, and salt in food processor. With machine running, scrape yeast mixture through feed tube, then pour in remaining warm milk, processing until dough forms a ball. Knead dough by pulsing until smooth and elastic, about 3 minutes.
3. Spray large bowl with nonstick spray. Place dough in bowl, turning to coat. Cover bowl with plastic wrap and let dough rise in warm place (80-85F) until doubled in volume, 35-45 minutes.
4. Spray 8-inch round cake pan with nonstick spray. Punch down dough. Turn dough out onto lightly floured work surface; knead in raisins. Divide dough into 8 equal pieces. Roll each piece of dough into 8-inch rope, then coil each rope to form bun. Place buns in prepared pan; cover pan loosely with plastic wrap. Let rise until doubled in volume, 35-40 minutes.
5. Meanwhile, preheat oven to 375F
6. Brush tops of buns with 2 teaspoons milk. Bake until lightly browned, 20-25 minutes.
7. Stir together confectioners sugar, water, and vanilla extract in small bowl until smooth. With small spatula, spread icing over hot buns. Serve warm or at room temperature.
Per Serving (1 bun): 80 grams, 205 Cal, 3 g Total Fat, 1 g Sat Fat, 0 g Trans Fat, 31 mg Chol, 166 mg Sod, 40 g Total Carb, 13 g Total Sugar, 2 g Fib, 6 g Prot, 38mg Calc.
PointPlus Value: 6
FYI You can substitute  golden raisins for the dark raisins and apple pie spice for the cinnamon, if you like.
I used the kitchen-aid mixer, to make these, and they still turned out great! The next recipe I tried was the No-Knead Whole Wheat Bread.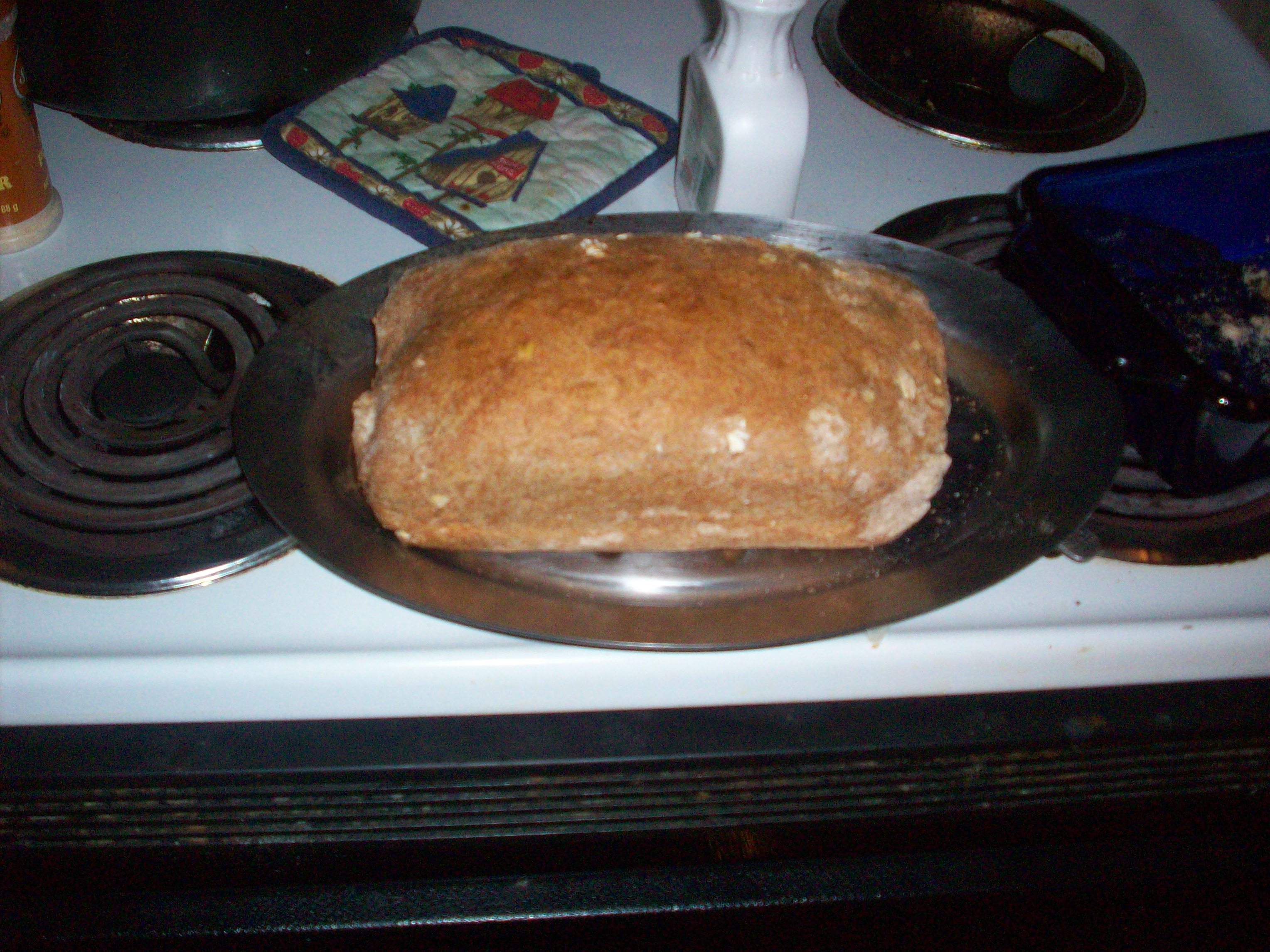 No-Knead Whole Wheat Bread (Serves 12)
3 cups whole wheat flour
1/2 cup steel-cut oats
2 teaspoons salt
1 package quick-rise yeast
1 1/2 cups water
1. Generously spray 5×9-inch loaf pan with nonstick spray.
2. Stir together flour, oats, salt and yeast in large bowl. Add water, stirring until blended (dough will be very sticky). Cover bowl with plastic wrap; let dough rise in warm place (80-85F) until covered with popped bubbles, about 4 hours.
3. Turn dough out onto lightly floured work surface. With floured hands, punch down dough and fold over onto itself twice (dough will be sticky). Shape dough into rectangle and transfer to prepared pan, pressing dough into corners and sides. Loosely cover pan with plastic wrap; let rise in warm place (80-85F) 1 hour.
4. Meanwhile, preheat oven to 375F.
5. Remove plastic wrap; bake until browned, about 40 minutes. Remove bread from pan and let cool completely on wire rack.
Per Serving (1/12 of loaf): 68 grams, 128 Cal, 1 g Fat, 0 g Sat Fat, 0 g Trans Fat, 0 mg Chol, 391 mg Sod, 27 g Total Carb, 1 g Total Sugar, 4 g Fib, 5 g Prot, 15 mg Calc.
PointPlus Value: 3
I thought the bread was good, my husband and daughter wasn't big fans. I think  messed it up though, I am not the best with yeast. The next recipe I tried was the Barbecue-Sauced Grilled Chicken. I did this a bit different though, I didn't grill it on the grill, and I didn't use the boned chicken breasts. I used chicken tenderloins, and baked them in the oven. This chicken turned out so yummy, the sauce used its AWESOME. I could use it as a sauce for steak, or even my salad.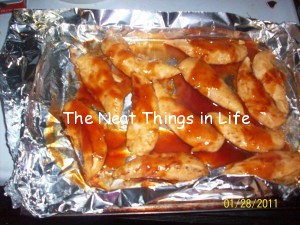 Barbecue-Sauced Grilled Chicken (serves 6)
1 cup ketchup
2/3 cup strong brewed coffee
1/2 cup packed light brown sugar
1/4 cup cider vinegar
1 teaspoon black pepper
few drops hickory liquid smoke
6 (1/2-pound) bone-in chicken breasts, skinned
1. Spray grill rack with nonstick spray. Pre-heat grill to medium-high or prepare medium-high fire using indirect method.
2. Meanwhile, combine ketchup, coffee, brown sugar, vinegar, 1/2 teaspoon salt, and the pepper in medium saucepan and set over medium heat. Cook, stirring, until brown sugar is dissolved, about 3 minutes. Bring mixture to boil; reduce heat and simmer 10 minutes. Remove saucepan from heat; stir in liquid smoke. Let sauce cool to room temperature.
3.Sprinkle chicken with remaining 1/2 teaspoon salt. Place chicken, meat side down, on cooler portion of grill rack and grill, covered, turning over or twice and brushing with sauce, 15 minutes. Uncover and brush chicken with remaining sauce; grill until cooked through about 5 minutes longer.
Per Serving (1 Chicken Breast): 202 grams, 288 Cal, 4 g Total Fat, 1 g Sat Fat, 0 g Trans Fat, 90 mg Chol, 948 mg Sod, 30 g Total Carb, 23 g Total Sugar, 1 g Fib, 34 g Prot, 41 mg Calc.
PointPlus value: 7
I love this cookbook, and I will be checking out more of the yummy desserts. One thing many people think they need to do when they try to lose weight is cut out all of their yummy foods, but that is so wrong, when you remove things you love from your diet, you will only hurt yourself in the long run, you will crave that food and over eat. I love how the WW cookbook has several yummy sweet treats!
Purchase:
You can purchase the Weight Watchers New Complete Cookbook on Amazon for $17.97, with this purchase you will also get a year subscription to the Weight Watchers magazine, a $9.99 value.
Connect With Weight Watchers:
Website: http://www.weightwatchers.com/index.aspx
Twitter: http://twitter.com/#!/weightwatchers
Facebook: http://www.facebook.com/weightwatchers
Disclosure: I received a copy of the WW cookbook for review purposes only, no other form of payment was received, this is my honest opinion all others may vary.