Are you the type of person that when you get the urge to snack, you take the bag or box of snacks with you to the couch or the computer, and before you know if you are tipping the bag to get the crumbs out? Yup, that is me! I will usually say just one more, then that one more turns into one more and so on.
If you are this type of snacker then you and your waistline will love this next giveaway!

What are Yum Yum Dishes?
Yum Yum Dishes are fun bowls that will fit 4 ounces of snacks in it, once the snack is all gone, then snack time is over. No more reaching into the bag to pull out just one more chip.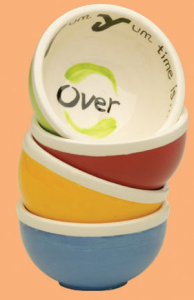 How did Yum Yum Dishes get started?
Yum Yum Dishes got started when a mom found herself on the couch snacking way to much after the birth of her second child. What seemed like an innocent snack became half the bag of potato chips. So she started using small dishes for her snacking, and before she new it she was back to her normal size. She wanted to share with everyone her simple method of portion control, and that is when Yum Yum Dishes was born! A 4 ounce bowl with a cute look to let you know that snack time is over.
Sometimes knowing you are not able to get more when your dish is gone will help you savor the flavors, and eat slower, making you full faster.
My Personal Opinion:
I received the yellow yum yum dish for review, love the concept behind Yum Yum Dishes, because I am this type of person, sometimes even when my belly is telling me no more, my head is telling me, oh it tastes so good just one more. With having a small bowl, with a set amount of snacks in it, this will make it less likely for me to over snack, and if I wanted more I would have to get up off the couch and walk to the kitchen to refill the bowl. I am not going to refill my bowl, but IF I did want just a little more snack, I would have to walk my behind to the kitchen to get just a little more.
The Yum Yum Dishes are perfect for the over snackers, and for those serious about losing inches from their waistline. The folks over at Yum Yum Dishes was generous to offer 2 lucky readers full sets, so they to can get started on watching their waistlines disappear!
Connect With Yum Yum Dishes:
Web site: http://www.yumyumdish.com/
Twitter: http://twitter.com/yumyumdish
Purchase Yum Yum Dishes:
You can purchase a set of Yum Yum Dishes from their website for $22.00, BUT if you purchase during the month of January, and like Yum Yum Dishes on Facebook, or follow them on Twitter, you will get $5.00 off making a full set be, $17.00 now you can not beat that!
Reader Discount:
During the month of January Yum Yum Dishes is offering $5.00 off a complete set. You must like them on Facebook, or follow them on Twitter in order to get the discount!
Win It:
2 lucky readers will have a chance to win a complete set of yum yum dishes, but if you head on over to Megan's you will have 2 more chances to win. Please note you will only be allowed to win one set. There will be a total of 4 different winners, we want to be fair to all who enter.
Mandatory Entry:
Remember mandatory MUST BE DONE, before any extras to count! Head on over to Yum Yum Dishes, and tell me something you learned! That's it :) UPDATE: WHAT YOU POST MUST BE DIFFERENT FROM THE PREVIOUS COMMENT. SO FAR THE LAST 4 COMMENTS HAVE ALL BEEN THE SAME.

Want Extras?
Become a Google Follower. (2 extra)
Become a Subscriber. (2 extra)
Follow Yum Yum Dishes on Twitter. Make sure to leave your Twitter name. (2 extra)
Like Yum Yum Dishes on Facebook. (Leave your name and Initial here so I can verify. 2 extra)
Like The Neat Things in Life on Facebook, right hand side. (2 extra)
Become a network blog follower. (2 extra)
Enter Megan's over at MNMSpecials Yum Yum Dish Giveaway. (3 extra)
Follow me on Twitter. Right hand side. (2 extra)
Tweet the giveaway. This can be done daily. (1 extra daily)
RT @Jammie79 Enter to win a set of @YumYumDish http://www.theneatthingsinlife.com/?p=3896
Giveaway will end January 15th, @ 11:59pm CST. Giveaway is open to US residents 18 an older. Once winners are drawn I will contact them via email and  will have 48hrs, to contact me back with the proper information. If a winner fails to respond a new winner will be drawn. All my winners are drawn with… And the winner is… Plugin for wordpress.
Disclosure: I received one yellow yum yum dish for review purposes only, no other form of payment was received, this is only my opinion and others may vary.