With doing what I can to lose weight, it is important that I keep my calories down, but still get all the nutrients that I need for the day. I was recently introduced to a super food. The super food I was introduced to is 24/7 Meal Replacement.
What is 24/7 Meal Replacement?
24/7™ Meal Replacement for Life is the most nutrient-dense delicious meal replacement drink featuring stabilized rice bran with its 120 antioxidants and phytonutrients.

Diets low in saturated fat and cholesterol, which include two servings of foods that provide a daily total of at least 800mg of phytosterols in two meals, may reduce the risk of heart disease.  Two servings of NanaCea 24/7™ provide 800 mg of phytosterols (400mg of phytosterols per serving). Read More…
I also got to ask the creator Patty McPeak a few questions. I mean I keep hearing the word super food… So I wanted to know what makes Stabilized Rice Bran different from all the other super foods out there.
What makes Stabilized Rice Bran different from all the other "Super Foods"?
Stabilized Rice Bran is the most nutrient dense food a human can eat. Loaded with more antioxidants then spinach or pomegranate stabilized rice bran is developed from Patty's own unique patent technology.
Besides Stabilized Rice Bran, is there any other product you can recommend as extremely well for the body? Patty did not know of any other food that has been scientifically tested to match the vitamin and antioxidant content of Patty McPeak stabilized Rice Bran.
Some more information about Stabilized Rice Bran!
* Stabilized rice bran is the most nutrient-dense natural food on Earth
* Many scientists and nutritionists consider it the world's #1 superfood
* It's an extremely powerful source of vitamins, minerals, amino acids, omega-3 fats, CoQ10 and more
* It provides complete protein and fiber
* It has more antioxidants than any other food ever tested
I will put this drink to the test, so I picked to sample the chocolate flavor of this product. I thought for sure this was going to be nasty. I have learned my lesson by taking big gulps of things I have never tried before, so I mixed me up a serving, 2 big scoops to 8 ounces of water. I mixed this with water, so I wasn't adding more calories, however you can mix with milk and juice.
I was rather relieved that this drink didn't taste gross, I have had some that was way hard for me to stomach, the taste of this is hard to explain, you can taste the bran, and it has a thicker consistency to it, sort of like chocolate milk. When drinking this, I noticed a slight more energy, I know I lack a lot of nutrients I am suppose to be getting daily. So this was probably why I was feeling more energy.
More Nutrient Information: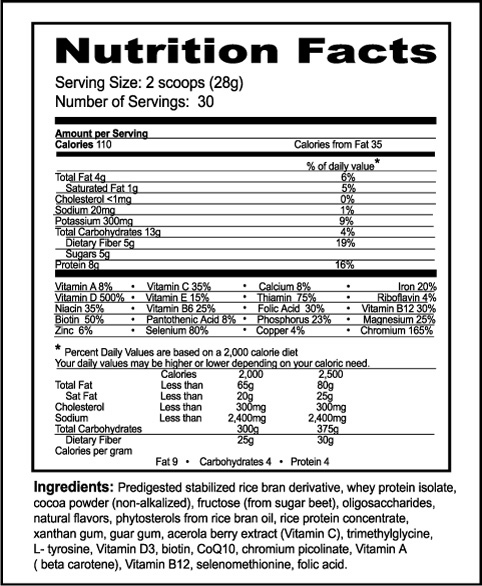 You can see an interview with Patty that will give you more information about Stabilized Rice Bran and how it works here. You can also visit http://www.stabilizedricebranresearch.com/ to find out more information about the different health benefits that Stabilized Rice Bran has on a person.
Purchase Stabilized Rice Bran Products:
You can purchase the 24/7 Meal Replacement mix on the NanaCea site for $49.60, and it comes in both Vanilla and Chocolate.
Disclosure: I received a sample of the chocolate 24/7 meal replacement for review purposes only, this is my honest review and others may vary.