When it comes to lighting, which way do you prefer to brighten a room table lamps that take up surface space or floor lamps that can be easily placed in a small area to brighten up a room? I really haven't taken the time to think about this one, we usually use the main rooms lights to lighten a room. However, my husband likes it dark, and I have to have some light or I get a massive headache.
In my home a table lamp would just get junk piled around it by my husband and daughter, so I would have to say I would prefer floor lamps. A floor lamp would not take up as much room, as a table lamp, and I would not have to worry about the clutter piling up around it!
I would love to have a nice leather living room suite, and a gorgeous antique floor lamp to set the room off. However, as I picture my dream living room, I can also see a nice table lamp on the stand next to the chair.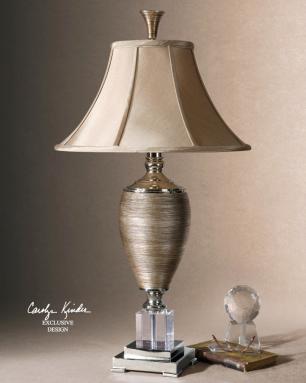 Can you see my dream room? Gorgeous leather furniture, with a nice antique floor lamp in the corner, next to the chair a beautiful end table with an amazing table lamp.  One day, I will have my magical room.