Gourmet Gift Baskets offers a wide range of products for many different occasions. Whether you are looking for a gift basket, for him, her, or a just because basket. That is not all; Gourmet Gift Baskets also carries fruit baskets, flowers and plants, as well as specialty themes, such as Care Packages.
Care Packages are great for many different occasions. Do you have a loved one planning their first camping trip? Not a problem Gourmet Gift Basket has a care package for that! What about a college student studying to pass those exams, yup they have a care package for that!
One great thing about care packages is you can really send them for any occasion. Recently, I had the chance to check out the Deluxe Glow in The Dark Care Package. Remember how I said you can really use these care packages for anything, well I am using this for Gillian's Easter Basket, but shh don't tell her.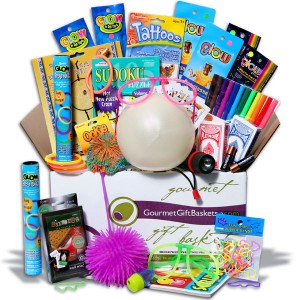 Product Description:

Remember when you were a kid and you tried to squeeze in as much fun as possible before you went to bed, this care package will bring back those fond memories! This care package for your favorite child is sure to provide them with the late night enjoyment they are looking for and includes glow in the dark sticks, bracelets, balls, glasses, a mouthpiece, along with a flashlight and Duracell batteries. There are also a couple of light up toys your kids will love such as the Porcupine Fluffy Ball and the Ookie Ball.  We have also included temporary tattoos, playing cards, puzzle books, a scribble pad, a bendable pencil and sharpener, as well as a dream catcher. Send them the Deluxe Glow in the Dark Care Package today and turn nighttime into fun time!

What is Included:
· Glow in the Dark Bumple Ball – 9″ – This classic bumple ball glows in the dark extending the hours it can be used and perfect for our Night Time Camp Care Package.
· (2) Glow In the Dark Bracelets – 15 per tube – A total of 30 bracelets to be shared or kept to ones self. It really doesn't get more traditional than this.
· (2) Glow In the Dark Eye Glasses – Create memories that will last forever with these glow in the dark eye glasses. They won't help your vision, but they will help others spot you!
· (2) Glow Bars – 2 per package – Another item to glow in the dark, these glow bars could be used for a variety of things and if necessary even to light a pathway in the dark.
· (2) Glow In the Dark Mouthpiece – This care package for camp wouldn't have been complete without these glow in the dark mouthpieces. Their friends will love it!
· Flashlight – One of the most important things you need while at camp, this flashlight is sure to provide the safety needed in the dark.
· 2 AA Batteries by Duracell – You want to have these in the flashlight so you're ready to go.
· Glow in the Dark Rubber Band Bracelets – 12 pack – These are the talk amongst kids and adults of all ages these days and we made sure to include them in this care package!
· (2) Standard Playing Cards – Crazy eights, Slap Jack, Go Fish. You name the game and it will be played with these cards.
· Sudoku Puzzle Books – Is there a more addictive game mind game out there? We just love these puzzles and know this book will provide some quiet time to work the mind.
· Bendable PVC Pencil – 12.5″ long – A pencil is very important to have at camp. Making it bendable just adds another dimension.
· Pencil Sharpener – Sharpen that pencil to play your puzzle books or write notes to your friends.
· Temporary Tattoos – Show off a new temporary tattoo to your friend each day you are at camp. Kids always love these great and very classic items.
· S'Mores Card Game by Education Outdoors – 69 cards plus Instruction card – A fun card game that's perfect for the camp fire!
· Light Up Porcupine Fluffy Ball – Playing catch with this won't hurt, but it will be a ton of fun especially at night.
· Scribble Pad of Paper – 56 Sheets – 9″ x 12″ – A notepad gives you all that all important scrap paper to write notes to friends.
· Fine Point Washable Markers – 12 Piece Set – These markers are sure to get used for arts & crafts projects or a variety of other things at camp.
· Dream Catcher – Add that personal touch to their room with this great dream catcher.
· Ookie Ball – Our care packages are loaded with items that are sure to impress, and this classic toy certainly fits the bill!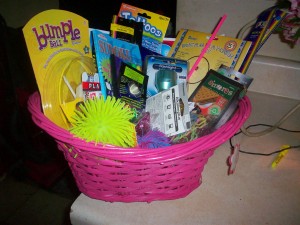 I love this care package, and I think it is going to make an awesome Easter Basket for Gillian, I think one of the things I like best in the package, is the dream catcher. I am part Native American and this will be neat for Gillian to be able to make her own dream catcher. The whole thing in itself, screams out I love you, I mean who doesn't love light up items!  I cannot wait to see Gillian's face Easter morning; I think she will be just as excited as I am, if not more. She loves everything glow in the dark, and with us going camping soon, this will be perfect. Momma had better not hear "I am bored".
Purchase:
You can purchase the same Care Package I received, on GourmetGiftBaskets.com for $59.99.
Connect with Gourmet Gift Baskets:
Website: http://www.gourmetgiftbaskets.com/
Facebook: http://www.facebook.com/GourmetGiftBaskets
Twitter: http://twitter.com/gmtgiftbaskets
Want to know a secret? One lucky reader will win this same care package!
Enter to Win:
Mandatory: Head on over and Like Gourmet Gift Baskets on facebook! Then come back here and let me know you liked them, be sure to leave your facebook name so I can verify if you win. Please also note this package may vary slightly.
Want Extra?
Post on Gourmet Gift Baskets facebook wall letting them know which basket you like best. (2 extra)
Become a Google Follower. (2 extra)
Follow Gourmet Gift Baskets on twitter. (2 extra)
Become a Subscriber. (2 extra)
Like The Neat Things in Life on Facebook, right hand side. (2 extra)
Become a network blog follower. (2 extra)
Follow me on Twitter. Right hand side. (2 extra)
Tweet the giveaway. This can be done daily. (1 extra daily)
RT @Jammie79 Enter to win an @gmtgiftbaskets Deluxe Glow in The Dark Care package http://www.theneatthingsinlife.com/?p=4827
Giveaway will end April 9th, @ 11:59pm CST. Giveaway is open to US and Canada residents 18 an older. Once winner is drawn I will contact them via email and they  will have 48hrs, to contact me back with the proper information. If a winner fails to respond a new winner will be drawn. All my winners are drawn with… And the winner is… Plugin for wordpress.
Disclosure: I received the same care package for review purposes only, no other form of payment was received.