One of my favorite parts of home schooling is playing games to help with the learning. I think this helps Gillian expand her learning and it is something she enjoys. There is nothing like a little mom and dad time at the kitchen table getting our game on! We recently got to check out a game called Synonyms, talk about hard, our brains had to work a lot harder then normal. Gillian LOVES this game!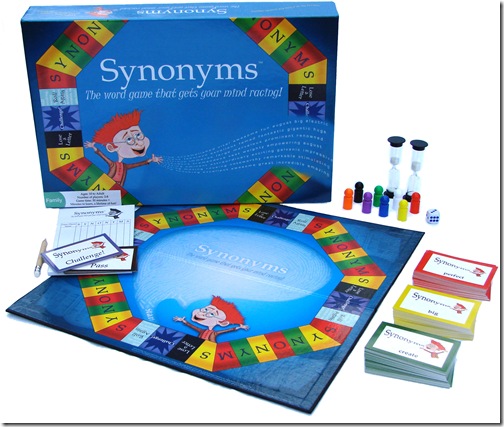 About Synonyms:
Synonyms is the exciting word challenge that entertains and educates in a fast-paced and fun board game. Can you name 2 synonyms for the word great? Players race their pawns around the board to be the first to collect all the letters of the word SYNONYMS. Roll the die and select a card. You have one minute to earn your letter by naming the designated number of synonyms- unless another player declares a challenge! Minds race at maximum brainpower as each tries to top the other by naming more synonyms. Play as a team or individually and put your verbal skills to the test! Improve your active vocabulary with every game.

For ages 10 through adult
2-8 Players
Playing time: 30 minutes+
Fast paced and fun word game for the whole family. Expand your vocabulary every time you play!
Never be at a loss for words again- play Synonyms!
Synonyms is for ages 10 and up, Gillian is 9 and had a blast playing! This game is pretty hard at first, the more you play it the easier it becomes, you just have to get in the thinking mode. My husband and I was both ready to quit after the first few rolls, we kept getting red cards and was having a hard time getting anywhere. Gillian would not let us quit, she kept saying just a little longer. So, after about 45 minutes of playing, we ended up giving hints and I personally feel this made the game funnier.
For instance, if it were Gillian's turn we would give small hints for her to get the right answers. This game has been a big help to her, and us for that matter in building our vocabulary.
I am assuming it does not really matter how you play, just as long as you are learning in the process. You could also just play with the easier cards to start, then slowly introduce the harder cards as you get more use to the game. Since receiving this game we have played about 3 times. It seems Gillian always wants to play this game!
Synonyms, is a great game for all those that love word games! This is a MUST HAVE for all home schoolers, great way to help the kids build their vocabulary while having fun doing it. Remember schooling should not be all about paper and books; it should be about having fun.
What Gillian has to say:
"I like the game a lot, the main reason is because not only is it fun, but it is hard for mom and dad!"
Purchase:
You can purchase your Synonyms from Amazon for $29.99! This is a great investment for the home school library of fun learning games.
Connect with Synonyms:
Website: http://www.synonymsthegame.com/
Twitter:  http://twitter.com/SynonymsGame
Facebook: http://www.facebook.com/pages/Synonyms-Word-Game/101225689944886?sk=wall