Have you been thinking what to get mom for Mother's Day? How about getting her some products where she can do her own little spa treatment.
Auromere carries several great products that will make mom feel refreshed. I recently received a few travel size samples of the Auromere products, my favorite was the mudbath.
Herbomineral Rejuvenating Mudbath
This Ayurvedic recipe combines 12 potent herbs and 4 types of clay all noted for their purifying and rejuvenating effects on the skin. Packed with skin-nourishing minerals. For use in bath or shower instead of soap or as a facial mask. Naturally draws out toxins and impurities, exfoliates and nourishes the skin. Leaves skin silky soft and smooth, with a wonderfully fresh scent.
I only used this as a facial, while relaxing in a nice bubble bath. Applying this mask was extremely easy, as well as washing it off. The longer you leave it on the better you will feel. I left mine on for about 10 minutes, after so long it does start to get dried. When the mask starts to feel dry, wet your finger and massage your face some to re-wet it.
I have extremely oily skin and I noticed after doing this my face was super soft, and smooth. A small travel size will do your face about 4 or 5 times. The smell of this product was a bit strong but after mixing it and applying it to my face; the aroma did not over whelm me.
A little about the Auromere:
Over 30 years ago Auromère Ayurvedic Imports started as a small community-owned business that became one of the first companies to introduce Ayurveda to the U.S.  Today Auromere is a leading importer of Ayurvedic body care, conscious living products and literature.  Auromère's mission is to bring the ancient spiritual and traditional healing wisdom of India and a higher consciousness within reach of our modern, fast-paced lives. Read More…
Auromere Ayurvedic Import's also carries, soaps, massage oils, toothpaste, lotions as well as other products that would make a great spa treatment basket this Mother's Day. Not sure what all to get, you can purchase travel size products to test a little of everything.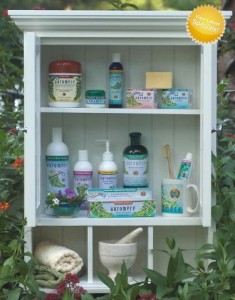 Purchase Auromere Products:
You can purchase these products directly from the Auromere Ayurvedic Import's website or use their store locator to find a store near you. Prices and sizes vary.
Connect With Auromere:
Website: http://www.auromere.com
Disclaimer: I received a few travel sizes of these products for review purposes no other form of payment was received.