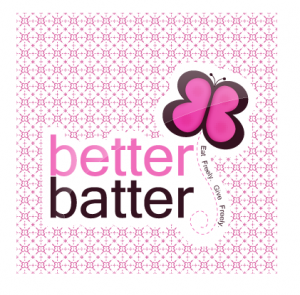 What is Gluten?
Gluten is a protein composite that appears in foods processed from wheat and related species, including barley and rye. It gives elasticity to dough, helping it to rise and to keep its shape, and often giving the final product a chewy texture.
However, some people are allergic to Gluten, and their bodies cannot properly process it, causing many health issues. Studies show about 1 in 133 people have a Gluten Sensitivity, and since it is found in most products we eat, companies are finding a way around this, and making products that are Gluten-Free.
Better Batter is a great example. Better Batter was started in 2006 by a mom. She was trying to find a way to feed her family of four tastier meals, which were Gluten free. The reason being, she had two sons, and a husband with sensitivities to gluten.
Naomi, started making her own breads and goodies, with the information and recipes she had; however this was becoming a bit pricy, and wasn't all that tasty. Therefore, she prayed, and between a prayer and a dream she had, Better Batter was born. You can read more about the Better Batter start on their website.
Better Batters products include, All-purpose flour, pancake and biscuit mix, fudge brownie mix, seasoned flour, yellow cake mix, and chocolate cake mix.
I was sent a sample of all 6 of their products, so far I am impressed. I have made the fudge brownies, and they are so good. Both my husband and daughter loved them; they came out nice and chewy. One thing I love about these products is not only do they have the directions on the back of the box, but they also include alternative ways to make them for those who are vegans. I am curious how a cake would taste with northern beans instead of eggs.
I also had the chance to make the chocolate cake, with peanut butter frosting. Yummy my husband made the remark that it tasted better then the store bought mixes. He said it had a different taste to it, which he loved! The season flour went great on chicken baked in the oven. It does have a little kick to it, but was Delicious!
The pancake and biscuit mix, should probably only be used for pancakes, or biscuits for breakfast. I made the biscuits for dinner and I took a bit, let my daughter try it, didn't tell her what I thought and she said right away it tastes like pancakes, blue berry pancakes she said. I happen to agree and so did hubs, but they was yummy just not a dinner biscuit.
Better Batter has several other recipes you can make with their products, they also offer financial aid!
About Better Batter Financial Aid Program:
Better Batter's gluten free products are the product of a family just like yours. Founder Naomi Poe found the gluten free diet to be enormously helpful in her quest for healing for her son Zion's developmental delays. Better Batter Gluten Free Flour was created as a safe and convenient way of providing food that her sons could eat. Better Batter products have been taste tested & approved by gluten free children (and adults!) since 2007!
We believe everyone should have the ability to eat healthy, enjoyable food. Autism therapies can be expensive, and gluten free foods are not always cheap. That's why, as a part of your community, Better Batter is committed to offering special pricing to families with autistic children and families with limited income. Click here for more information.
You can purchase Better Batter products on their website, or in certain stores. To find out if a store near you sells the Better Batter product check out their store locator.
Connect with Better Batter:
Website: http://www.betterbatter.org/
Twitter: http://twitter.com/BetterBatter
Facebook: http://www.facebook.com/#!/pages/Better-Batter-Gluten-Free-Flour/67781314078
One lucky reader will win the same 6 samples, I received for review!
Mandatory: Head over to the Better Batter site, and tell me something you learned, or what recipe you would like to make.
Want Extras?
Follow Better Batter on twitter. (1 extra)
Like Better Batter on facebook. (1 extra)
Become a Google Follower. (1 extra)
Become a Subscriber. (1 extra)
Like The Neat Things in Life on Facebook, right hand side. (1 extra)
Become a network blog follower. (1 extra)
Follow me on Twitter. Right hand side. (1 extra)
Enter any of CA Monkey Momma's Mother's Day giveaways. (1 extra for each you enter)
Tweet the giveaway. This can be done daily. (1 extra daily)
RT @Jammie79 Enter to win samples of @BetterBatter products! http://www.theneatthingsinlife.com/?p=5060
Giveaway will end April 23th, @ 11:59pm CST. Giveaway is open to US  residents 18 an older. Once winner is drawn I will contact them via email and they  will have 48hrs, to contact me back with the proper information. If a winner fails to respond a new winner will be drawn. All my winners are drawn with… And the winner is… Plugin for wordpress.
Disclosure: I received samples for review purposes only, no other form of payment was received.