Being a mom is a full time job. We as moms are on call 24/7 even when our children get older. Not only is it a full time job, it's one of the most stressful jobs a female can have. We have to manage the finances, as well as all the craziness that comes with the job. We have parent/teacher meetings to attend, sporting events to make sure our children get to, and we have to have some R&R so planning family trips is also in the mess of our hectic lives.
Although our lives are hectic, we wouldn't trade this job in for anything. Most moms not only have these stresses, but they also have the stresses of being a full time worker outside the home. So we do deserve just one day a year to be spoiled don't we?
This Mother's Day consider wine for that special mom. MacMurray Ranch offers a wide selection of wines, whether you are looking for those red wines, or the white wines.
A little about MacMurray Ranch:
An Enchanted Place

Rolling hills. Treasured traditions. Breathtaking vineyards. This is MacMurray Ranch.

Nestled in the Middle Reach of Sonoma's Russian River Valley, our ranch has been a farmstead since the 1850s, when Col. George Porter built a home here for his family beside a small stream – now called Porter Creek – that flows into the nearby Russian River. Generations of Porters farmed livestock and crops on the rich silt soils of the valley floor until Hollywood legend Fred MacMurray bought the ranch in 1941. Fred embraced the rancher's lifestyle, raising prize-winning cattle, while his children rode horses through the hills.

Wine grapes were first planted here in the mid-1990s. Today, 450 acres of Pinot Noir and Pinot Gris vines flourish where cattle once roamed. The original buildings have been faithfully restored, and the 1,500-acre property is now home to old-growth oaks, redwood trees, birds and indigenous wildlife. And, of course, our collection of world-class wines.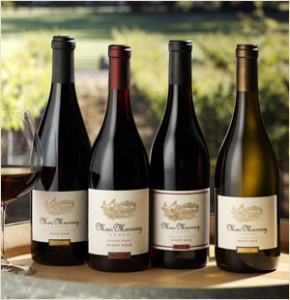 I was lucky enough to sample MacMurray Ranch Sonoma Cast Chardonnay and Central Coast Pinot Noir. Let me start by saying, I have never had wine. This was my first time and it was extremely strong tasting. My husband stated this was the best wine he has ever had. I did sneak off into the bathroom and have me a nice hot bubble bath while sipping a glass of the MacMurray Ranch Sonoma Cast Chardonnay, I personally could not sit around drinking wine all the time, but a glass here and there just to forget all my worries was needed. A glass of wine is something a mom needs just to unwind after a long stressful day.
Central Coast Pinot Noir Wine Description:

A Pinot with classic aromas from the cool micro-climates of the Central Coast, this wine showcases flavors of red cherry, cola, and briar complemented by nuances of sweet vanilla and oak.

MacMurray Ranch Sonoma Cast Chardonnay Wine Description:

This year's Sonoma Coast Chardonnay has a rich mouthfeel with sweet aromatics. Restrained oak contact brings caramel and vanilla, but the emphasis is on elegant ripe fruit with tropical and lemon cream notes.
Both of these wines retail for about twenty dollars, if you are looking for a cheaper wine MacMurray Ranch also carries some cheaper wines such as the Bridlewood Monterrey Chardonnay and Paso Robles Cabernet, which both retail for fifteen dollars.
You can purchase MacMurray Ranch wines online, or you can search and find a retailer near you.
Connect with MacMurray Ranch:
Website: http://www.macmurrayranch.com/
We received two bottles of wine for review purposes no other form of payment was received. Wine makes a great Mother's Day gift for moms, it gives them a way to unwind.