ATTENTION, THIS POST CONTAINS ADULT CONTENT AND ADULT LINKS, IF YOU ARE UNDER THAT AGE OF 18 PLEASE HIT THE X BUTTON!

How many of you like fun, adult toys? Don't be ashamed or embarrassed. Just because we are moms, doesn't mean we do not need me time every so often. I am a toy gal myself, whether it be solo, or with my husband, toys in the bedroom can be rather fun.
I do prefer toys with my husband though rather than solo, but there comes a time when I just need me time.
I recently, was introduced to OhMiBod products. OhMiBod products are adult toys, these toys are unique, and when they are hooked up to an mp3 players, they vibrate to the beat of the music. Vibrator meets music = wow.
About OhMiBod:
The OhMiBod vibrator is a whole new way to enjoy your iPod® or any other music player. Everyone loves music. Everyone loves sex. OhMiBod combines music and pleasure to create the ultimate acsexsory™ to your iPod.

A whole new way to plug 'n play!
Simply plug OhMiBod into your iPod® or any music player and it automatically vibrates to the rhythm and intensity of the music. Let your body feel the vibrations as you get down with your favorite tunes. The combination of listening and feeling your music quickly transports you to a place where music, mind and body come together to create an unbeatable sexual experience. Read More…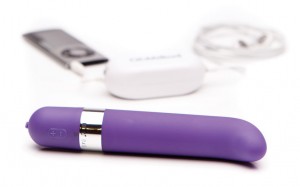 I was sent the Freestyle G to test drive! The Freestyle G, is a wireless vibrator that can be hooked to your music player. It also comes programmed with 7 different vibrating patterns, so a mp3 player is not needed.
One thing I liked about this vibrator is the different vibrations. Whether you like slow and light vibration or fast and hard vibration this vibrator pretty much does it all. Plus it comes in PURPLE or pink!
The Freestyle G is wireless, and comes with a built in rechargeable battery. No more trying to have some fun only to find out your batteries are dead. This vibrator is not waterproof, which was the only bad thing I found.
I also like the fact it is wireless and comes with a receiver to hook to the iPod. My husband and I can make a play list, sit the receiver on the nightstand, and have some fun. If you want to listen to the music, you can hook up some speakers to the receiver and listen to the music as well.
There is also an app for the iphone/ipod! I however, have not checked it out. I will probably purchase it at a later date.
You can purchase the Freestyle G on the OhMiBod website for $120.00. OhMiBod ships discreetly, so the nosey neighbors will never know what is in your special package!
Connect With OhMiBod:
Website: http://ohmibod.com
Blog: http://ohmiblog.ohmibod.com/
Facebook: http://www.facebook.com/MusicVibe
Twitter: http://twitter.com/ohmibod
One lucky reader will win their very oh OhMiBod Freestyle G. Retail Value $120
Mandatory:  Please head over to the OhMiBod site and have a look around, come back here and tell me another product you like. Also tell me if you would like purple, or pink. I cannot make a promise that is the color you will get if you win, however I can pass on that information.
Want Extras?
Follow OhMiBod on twitter. (1 extra)
Like OhMiBod (MusicVibe) on facebook. (1 extra)
Become a Google Follower. (1 extra)
Become a Subscriber. (1 extra)
Like The Neat Things in Life on Facebook, right hand side. (1 extra)
Become a network blog follower. (1 extra)
Follow me on Twitter. Right hand side. (1 extra)
Enter any of CA Monkey Momma's Mother's Day giveaways. (1 extra for each you enter)
Tweet the giveaway. This can be done daily. (1 extra daily)
RT @Jammie79 Enter to win a Freestyle G from @OhMiBod http://www.theneatthingsinlife.com/?p=5051
Giveaway will end April 20th, @ 11:59pm CST. Giveaway is open to US  residents 18 an older. Once winner is drawn I will contact them via email and they  will have 48hrs, to contact me back with the proper information. If a winner fails to respond a new winner will be drawn. All my winners are drawn with… And the winner is… Plugin for wordpress.
Disclosure: I received freestyle g for review purposes only, no other form of payment was received.