Can you believe Father's Day is less than three weeks away? It is hard to believe 2011 is half way over. With a little over two weeks to go it is time to start searching for the best gift for our dads.
I found the perfect gift at Redenvelope. We were recently sent the Cubist Chip & Dip Set for review.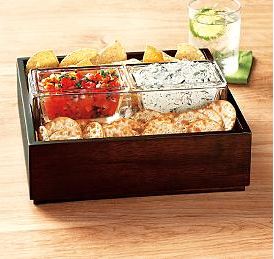 The Cubist Chip & Dip Set sells for $69.95, it measures 11" x 11" x 3 1/3"H. This set comes with a wood tray, and three glass dishes. The glass dishes are top rack dishwasher safe; the wood tray is cleaned easily, by wiping with a damp cloth. This is a very stylish serving set.
My Thoughts:
I loved this set, I love that the larger glass container is used for ice, and the smaller ones for your dips. This assures that the dips will not spoil if left sitting out for longer then you've intended. The wood tray is well made, and very stylish.
I think the Cubist Chip & Dip Set can be used for other things though. So, if you have a dad that really is not into entertaining, you can get him this piece for his desk. The long glass dish can be used for pencils, and pens, the smaller dishes for smaller objects.
The wood tray would also be great for loose pieces of mail or what not.
If the Chip & Dip Set doesn't interest you; you can check out the other Unique Ideas for Father's Day that Redenvelope carries. Some of the Best Gift Ideas for Dad, are the ones that come from our hearts.
Make sure to like Redenvelope on Facebook, they often have discounts, and great gift ideas for other occasions as well.