With the rising cost of healthy food products Americans are turning to growing their own products. With having a garden you will always have your favorite veggies at your finger tips, well most of the time if you freeze and can. We have tried the garden route, but we ended up getting flooded out and it was a waste of time so we never tried again.
Recently I was contacted to check out a product I could grow and not mess up! Really? This product would give me the chance to grow my very own Oyster Mushrooms! I love mushrooms, never heard of oyster ones though.
Backtotheroots.com sent me product to test, they said in as little as 10 days, I would have fresh mushrooms. With being a mushroom lover I took them up on this offer.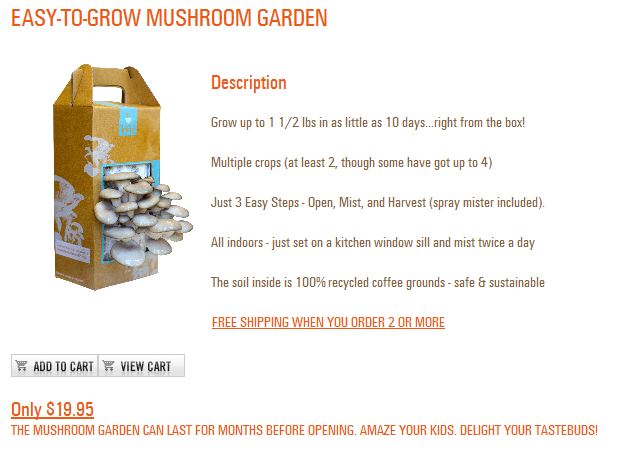 Our Opinion:
We received this product in the mail on a Saturday, the directions state to soak in cold water overnight. I waited until Sunday to soak in the water, after 24 hours, I put back into the box and placed by the sliding glass doors. I sprayed them twice a day, but it didn't seem like it was getting wet enough. Being in the South the heat and humidity stinks. After about day 5 nothing was happening, you know how I suck at gardens, I thought I was going to fail at growing these mushrooms. So I started to spray 3 times a day, on day 7 we started to see them grow (pictures to follow).
As you can see from the above pictures once the mushrooms started growing they took off fast! This was one of those neat things in life, it was super awesome to watch as the mushrooms progressed each day. Gillian, was in awe and she would get up and check on them every morning. With being a home schooling family this was a very good experience, and I would highly recommend getting a kit if you have younger children. This will be a nice learning experience to teach them first hand where our food comes from.
Gillian was not a fan of them raw, I never had these type of mushrooms before; however, they tasted like mushrooms to me hah.
Back to The Roots Facebook Campaign: Right now Back to The Roots, is doing a fun campaign, for those that purchase a kit and post a picture of their grown products on their facebook page, they will send a free kit with learning information to the elementary school of your choice! So by growing a kit and posting a picture on their facebook page, you could help a elementary class have a fun neat experience.
Purchase: You can purchase your very own Easy to Grow Mushroom kit at selected stores in the CA area, or via their website for $19.95 plus shipping and handling.
Discount: For a 10% discount use code… Mushrooms4me10
Connect: Website | Facebook | Twitter
Win it: One lucky reader is going to win their very own kit! Woohoo
Mandatory: This must be done before any extras will be counted… Head on over to the Back to The Roots and tell me something you learned.
Want Extras?
Become a Google Follower. (2 extra)
Like Shoulder Buddies BTTRon Facebook (2 extra)
Follow Shoulder Buddies BTTR on Twitter (2 extra)
Become a Subscriber. (2 extra)
Like The Neat Things in Life on

Facebook

, right hand side. (2 extra)
Become a network blog follower. (1 extra)
Post this giveaway to any linky at let me know you did and where I can find it. (1 per linky)
Follow me on Twitter. Right hand side. (2 extra)
Comment on any non giveaway post. (1 per post, you can comment on as many posts as you want)
Tweet the giveaway. This can be done 3x daily. (at least an hour apart)
RT @Jammie79 Enter to win your own easy to grow mushroom kit #giveaway http://www.theneatthingsinlife.com/?p=5870
Giveaway will end July 9th, @ 11:59pm CST. Giveaway is open to US  residents 18 an older. Once winner is drawn I will contact them via email and they  will have 48hrs, to contact me back with the proper information. If a winner fails to respond a new winner will be drawn. All my winners are drawn with… And the winner is… Plugin for wordpress.
Disclosure: I received no compensation for this post, we did receive product for review purposes only.