Smell my feet, give me something good to eat! Can you believe it is that time of year again. In the next month the kids will be dressing up for a few hours of fun. Keep in mind though you don't need a holiday to let the kids dress up and be silly. I m extremely excited for this Halloween, I usually dread it, because it is me alone taking our daughter around, and hardly anyone would participate in the area we lived in. This year we get to go with my sister and her babies!
We recently had the chance to work with Costume Discounters. Since I already had purchased my daughters costume, I thought this would be great to get my niece. We had a hard time picking out which costume we wanted to get her, they have several cute girls Halloween costumes. We searched for the different things she liked, to give ourselves a better idea of what to get her. We ended up searching for cat costumes,  she loved a few of them but ended up picking out the child kit the kat costume.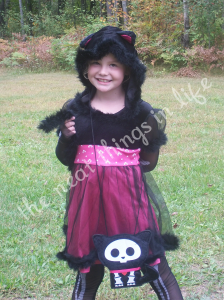 My personal thoughts on this costume, my niece is 8, and she is super small. I figured the Medium which is for 8 to 10 would fit her, so I went a head and got that. The costume itself is well made, and the costume fit great. However, the arms of the costume needs to be bigger, we had a hard time getting her arms into the costume, and they were a bit tight.
If you were thinking about getting this costume, I would recommend going a size bigger. Other than the arms the costume was perfect. It comes with everything needed to make a cute kitty, except the make-up, however I am sure most moms have enough make-up to spare a little.
My sister was also pleased with this costume, with her having three children in costumes, they can get to be a bit expensive, and she usually waits until the last minute to get the kids their costumes, so they get to pick what all the other kids didn't want. Her only complaint was the same as mine on the costume, the arms. My niece didn't seem to mind though after we finally got it on her.
You still have time to order your costumes, don't let your kids wear what nobody wanted!
We received the above costume for review purposes only, no other form of payment was received, and this is my honest opinion on this costume, others will vary.