Growing up my face was always breaking out, after I had my daughter and got put on the pill it was then when I noticed my complexion was awesome. The pimples were pretty much none. Then a few years ago, I stopped taking the pill, in hopes to conceive, while no baby yet, the acne came back at full force. This had a lot to do with my own hormones coming back full force.
We always seen proactiv commercials on TV and my daughter, being the observant person she is, had mentioned a few times "well Justin Bieber uses it, so it must work". Of course why didn't I think of that if Justin Bieber uses it, then it is sure to work!
However, I am skeptical when companies use celebrities to brand their products. Often times companies will use famous people to reel in others to purchase the product. Just as it did my daughter. I always thought this product was to good to be true. So when I had the chance to try this product for myself I had to jump on it. After the first day of using the product I could already tell a difference. My face was super soft, and I was glowing. I would wake up and my face was not oily like it use to be. My husband also started to use this product with me, he was excited that it was actually working.
One thing I love about proactiv is the bottles are numbered in order, they offer 24/7  support and expert advice. This isn't a product where the company just says "you purchase we are now done" They continue to support you and help you while you use their product to get the clear skin you have longed for. I also like the fact that you get a lot in the bottles, my husband and I both have been using this product now for about a month, and we still have a lot left.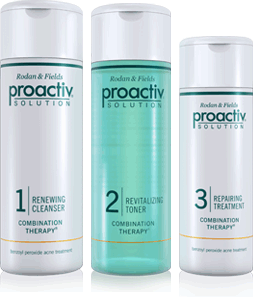 Proactiv 365 is the only product I have personally found that works for me, and I know the company will be there when I have any questions or concerns no matter the day or the time.
If you are unsure if this product is right for you, you can always call the experts and see what they think.
Renew. Revitalize. Repair. With Proactiv.
I wrote this review while participating in a campaign by Mom Central Consulting on behalf of Proactiv and received product samples to facilitate my review and a promotional item to thank me for taking the time to participate.