It wasn't long ago when I was introduced to the Geomate.jr, I honestly had no clue what it was until it arrived at my door. I new it was something that looked fun, and we could do with our daughter. However, the concept of it never registered until it showed up. For those of you who are like me and unsure, let me give you a brief run down.
Geomate.jr is a GPS unit used to "treasure hunt". Geocaching is a huge game played through-out the world. It is sort of like a hide n seek, people will hide containers, which will include a log book, and often times other treasures. They will then log it on geocaching.com and others will use the coordinates to find the geocache. Once found you write your name and date on when it was found, if there are trinkets in it, if you want one, you take and replace with something else around about the same value, put it back in its hiding spot and go on to your next find.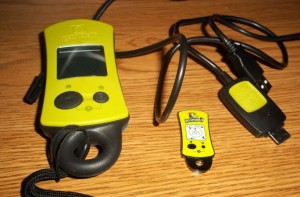 Clear distance and direction to the closest geocache along with information like size, terrain, difficulty, and GC code
High-sensitivity GPS performance with core GPS functions like current position, height, and heading
A "found" list allows you to mark geocaches as found and review them later
Set a "home" waypoint so you can always navigate back to where you started
Updatable with the latest U.S. geocaches and caches for other countries with the optional Geomate.jr Update Kit (sold seperately)
Once we got the unit we were out the door, we had to find out first treasure, lucky for us it was .5 miles down the road. Off we went, through mud wholes, and all we were determined to find what we had set out to find. Once we got to were we need to be we started searching.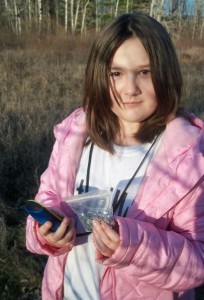 We found the treasure, put our own little trinket in there, and off we went back to the house to get the car! (I think this is when we became addicted.)
We found our second and third find in about the same location. I called my sister telling her all the fun we were having, and told her not to make plans for her birthday we were coming to town to treasure hunt. We ended up going a day before her birthday because weather was supposed to be bad on her birthday.
While out with my sister and her family we found 6 more on top of the 3 we had already found!
We had so much fun, the kids all had a ball finding the containers, and my sister informed me she was getting her a geomate.jr once she had the money.
She couldn't wait to go again so she got the geocache app for iphone, and stated the geomate.jr is so much better and easier to navigate. She is going to be purchasing her family one as an early Christmas gift. She stated if it came to the geomate.jr or the app for the iphone, she said no doubt the geomate.jr is so much better.
My family has gone out yet again, and located another 5 geocaches, making our total count to 19 searched for, 14 found 5 not found. Out of those 5 not found atleast two of them have been taken by what the geocachers call "mugglers". If you are out and about and find a container and you are unsure of what it is please leave in place.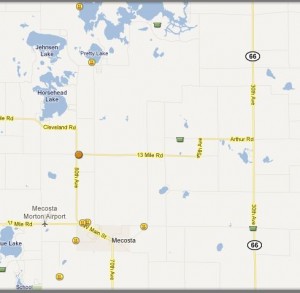 Here are a few of our finds. Some trinkets includes, tokens other members have left to mark they were there, small toys, Christmas light neck-less, money, guitar picks, and so much more. This is a very addicting and I HIGHLY recommend the geomate.jr for your geocaching adventure. It is easy to navigate, and very reasonably priced.  Did I also mention it was a great workout!
The geomate.jr does show you the difficult levels of finding the treasure as well as the terrain. We have had to go through swamps, up big hills, and through lots of woods, so if you are wanting to take up this as a new hobby be prepared and wear tennis shoes and old clothes.
Once we have the extra money for premium membership to geocaching.com we will be getting membership so we can join in on hiding geocaches.
Would I recommend the Geomate.jr to friends and family ABSOLUTELY I already have!  You can purchase the Apisphere Geomate Jr. Handheld Geocaching GPS
on Amazon for $65.98 and it would make a great gift for the whole family this holiday season.
Don't forget to connect with Geomate.jr on facebook, were they often hold their own giveaways!
I received the above product for review purposes only, this is only my opinion and others may vary.