One of the things I love most about Gourmet Gift Baskets, is the fact they're always giving back. They currently have a great program going on right now, if you blog about their selection of Christmas Gifts, they will donate two care packages to to the troops. These topics should be about the Christmas Gift selection on Gourmet Gift Baskets. If you are interested in doing so, the post must be live by December 9th, and then you can email me at jammie AT theneatthingsinlife DOT com the link, and I will get it sent over to the great folks at Gourmet Gift Baskets. I would need the links no later than the 10th of December.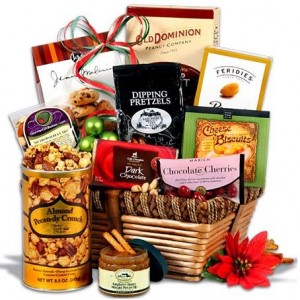 We recently had the opportunity to check out the Christmas Gift Basket Classic. Once we got the gift basket I had to try everything out!
The Gift Basket included…
· Almond Pecan-dy Crunch by Morley Candy Makers – 9.25 oz. – This ultra-luxurious candy crunch is made by covering gourmet popcorn and pecans in a rich, smooth caramel glaze.
· Chocolate Chip Pecan Cookies by J&M Foods – 6 oz. – Made with only the finest of natural ingredients, these cookies will satisfy even the most discerning chocoholic.
· Dipping Pretzels by East Shore Specialty Foods – 6 oz. – These extraordinary pretzels are the perfect unsalted snack!
· Robert Rothschild Farm Raspberry Honey Mustard Pretzel Dip – 7.8 oz. – This gourmet raspberry honey mustard dip adds a flavorful zing to pretzels, and goes especially well with the East Shore Specialty Foods Dipping Pretzels that we have included in our Gift Baskets for Christmas.
· Salted Peanuts in Box by Feridie's – 7 oz. – Only the finest peanuts, flavored with salt, these gourmet snacks are just as Mother Nature intended.
· Signature Dark Chocolate Bar by Lake Champlain – 3 oz. – This decadent and complex dark chocolate bar will satisfy the cravings of even the most discerning chocolate lover.
· Buttered Peanut Crunch by Old Dominion Peanut Company – 10 oz. – This flavorful peanut crunch is made with only top of the line gourmet peanuts, brown sugar, and "AA" grade butter. Taste them and you will understand that the best ingredients create the best peanut crunch!
· Metropolitan Trail Mix by GourmetGiftBaskets.com – 4 oz. – Our proprietary blend of nuts and dried fruit is a delicious and surprisingly healthy snack.
· Parmesan Artichoke & Garlic Cheese Biscuits by Salem Baking Company – 1.5 oz. – These crumbly biscuits will melt in your mouth leaving a trail of flavor to be savored.
· Chocolate Covered Cherries by Marich – 2.3 oz. – These indulgent gourmet chocolate covered cherries are one of the favorite snacks in our line of Holiday Gift Baskets.
And you know me I had to sample everything! So I took a little of everything, and my favorite was the chocolate chip pecan cookies! I think that was my husband's favorite as well, he made that remark "these are the best cookies, I have ever had". The peanuts were also amazing, I had never had ones like them before, they were extremely fresh.
We also loved the raspberry honey mustard, I used it on chicken breast and it was so yummy. I have learned from the past Gourmet Gift Baskets are amazing. The first time I ever had "gourmet" treats was a few years back and I wasn't impressed, it was after I reviewed my first Gourmet Gift Basket I new why these sweet treats were such big hits.
Gourmet Gift baskets make great gifts for those hard to purchase for, with several different gift baskets to pick from you are sure to find one to please.
Connect With GourmetGiftBaskets:
Website: http://www.gourmetgiftbaskets.com
Twitter: http://twitter.com/gmtgiftbaskets
Facebook: http://www.facebook.com/gourmetgiftbaskets
You can purchase the Christmas Gift Basket Classic on GourmetGiftBaskets.com for $59.99
Also, don't forget you have until December 10th, to do a blog post about the Christmas Gift selection on Gourmet Gift Baskets and sent back to me so I can get them to the proper person, so care packages can get sent to our troops.
I received the above gift basket for review only, no other form of payment was received.