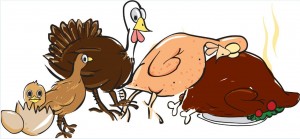 Often times people think of Thanksgiving, as getting with family and having a big feast. In many homes this is a tradition. One makes the Turkey, and either all the other dishes, or family members all bring a dish to pass. This was a tradition in my family for many years, and when we moved south it was one in my husbands family.
We would all gather at one family members house, and eat, and often times we would listen to this one fuss about that one, and so forth. Thanksgiving started to become a drag.
Thanksgiving is so much more than those dinners. It is about truly being thankful for those in your life. After all they are there for a reason.
Now instead of going to family members house to listen to the bickering, we do our own dinner. This year we will be going outside of the normal Thanksgiving dinner, which I have to say I am a bit bummed, I love me some left over Thanksgiving dinner. However, we are going with a pork-lion marinated in a Lawry's steakhouse marinate, with a side of potatoes, peas and carrots, and some dinner rolls. I will not be making no desserts this year, trust me my waist line will thank me!
I hope everyone has an amazing Thanksgiving dinner, and they remember what Thanksgiving is really about. Leave all the "bitching" at the door, and enjoy the time you have with your family, because you never know if that will be the last family event you share together.