I myself do not suffer from chronic pain. My husband however suffers from chronic bursitis in his joints and has a collapsed bone in his left foot. He takes aspirin and ibuprofen from time to time when his pain comes but it only dulls it a bit. Recently  we discovered a great pain relief cream that comes Doctor recommended and unlike the traditional stinky pain creams is completely homeopathic.
The cream is called Topricin. It is almost odorless; applies easily; and contains an impressive list of 100% homeopathic ingredients that are known to treat specific pain types. It comes in 3 product lines; Foot Therapy; Pain and Healing; and Junior for kids.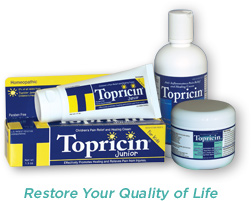 My husband was having one of his bursitis flair ups in his knee and applied a generous amount to his knee before he went to bed. The next morning the swelling had decreased and his pain was reduced greatly. He continued to apply it for the next couple days and his flair up went away completely. His flair ups usually last for a week or more and Topricin reduced the healing time to only 3 days.
During Halloween I took my daughter trick or treating to a lot of houses and we walked all over several neighborhoods. The next day my daughter was complaining about how her legs hurt from all the walking. I applied the Topricin Junior to her legs and she said her legs felt a lot better after a short time.
If you are a chronic pain sufferer or experience muscle pain from extended physical activity I highly recommend you give Topricin Pain Cream a try. From my family to yours, Topricin will help with your pain relief needs.
The Boo Boo Happens First Aid Kit retails for $19.99 and can be purchased at Topricin's online store at http://www.topricin.com/product/boobooshappen/. Enter in promo code BOO25 to receive 25% off your order.
We received product samples for review purposes only, this is our honest opinion others will vary. No other form of payment was received.