I love how people take me for a fool! When we were in Michigan my daughter fell in love with my sister's dogs. Okay, I won't lie so did I, and I miss them little girls! So I am on a search to find my daughter her own puppy. I think this would be very good for my daughter, it will give her a forever friend and someone she can talk to when she is sad, or happy.
So I have been watching craigslist… when I came across this ad.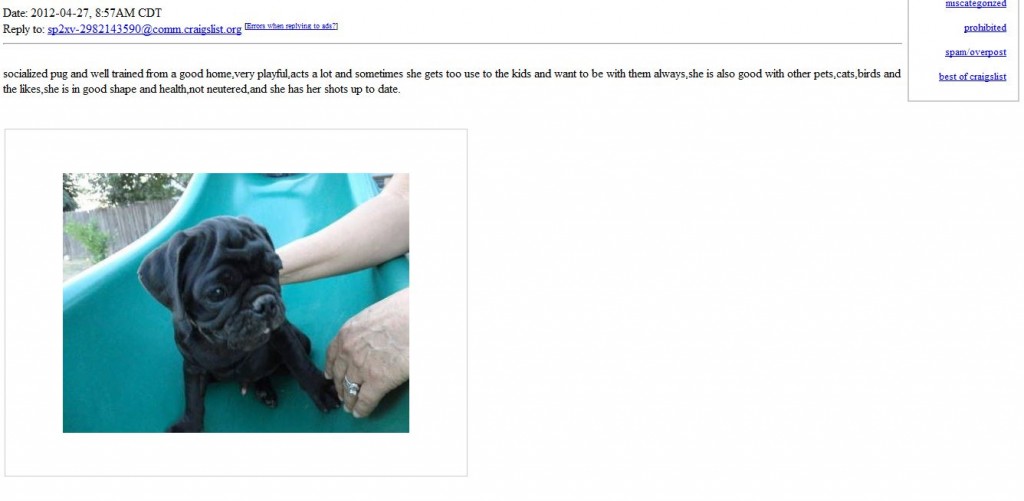 At first, I thought it was too good to be true. So I ignored the ad… then my daughter and I was looking at puppies, when I glanced at this ad again, I decided to email the person to see if they still had it. I mean all things are possible right? And if they had this puppy it would make my daughter's day, so I really had nothing to lose, but a lot to gain.
Well… my instincts were correct… I got this email today from the "seller"
Hello,
I appreciate your interest in my puppy. She is still available for adoption. I can tell you a lil about her but i know when you get her you will see that she really has a whole lot more, not negative stuffs though, She is about 12.6lbs and she is close to 7 month old, she is potty trained and she is very good with children. She is an AKC registered puppy, vet-checked,up to date on shots and her de worming is regular has stated by our vet, and her health is guaranteed.
All the papers will accompany the puppy, But right now I am in Africa on an Orphanage mission with my Family and we have the puppy right here with us. We are going to send her to you via express delivery on next day delivery after shipment through a shipping agent on a plane, so you don't have to worry about the shipping arrangement that ha s been taken care off, the shipping agent are pet travel experts so they know how to go about it and I have confirmed that also, so if you are interested in having the puppy, I want you to get back to me with your full name, address including the nearest airport to you. Please if you know that you are not going to take very good care of my baby, I am only giving out our puppy because we don't have enough time to take care of the puppy again due to the mission work before us here. There will be no adoption fee just to show how serious we are about getting her a good new home.
The pup will come along with all her necessary health paper work like:
Akc/Nkc/Fci Registered Paper, One Year health Guarantee, health Insurance Paper, Vet Records, Birth Certificate, Shot Book. Additional Items: Travel Crate
Toys And Foods Pup Price: Free
Shipping Fees:$185.00 Usd
Total cost:$185.00 Usd
If you are really interested in having my puppy as part of your family, I want you to get back to me with the below following so that i can carry out shipping:
Full name……..
Address……….
Phone number…..
City…………..
State…………
Zip code………..
And because of your convenience you need to also send the nearest airport to you. Waiting for your response.
Have a lovely day.
Regards.
Although, I am not to sure which part screamed scam artist at me first… the "Africa on an Orphanage mission", "Shipping fees: $185.00 Usd" or the "……….." after the information they need from me.
I was almost tempted to play their little game, and ask if they took paypal… once they gave me a paypal email address, I would inform paypal of their little scam. However, that instinct kicked in again, and I thought what if they tried to send me a virus via email, and what if they attempted to hack my paypal? I have already had one person get my card information, and it took me several weeks to get a new card. I wasn't about to do it again.
So with that being said… if someone claims to be in Africa and they want to send you a puppy for free… only thing you have to do is cover shipping RUN… especially if when they ask for your information and they use those wonderful ……'s. A true scam artist, I hope to God people don't fall for that crap.