Being a mom I love snapping pictures, pictures can be one of the best things to help keep those memories a live. I often store my pictures on the computer, until my computer crashed once and I lost thousands of pictures. After that time I decided it was time to put my pictures on a portable drive. I got a thumb drive that hooked to my keychain. I thought this was an awesome thing, I could take my pictures with me. However, that broke and the inside part with my images were gone for good. Thankfully I didn't delete them from the computer so I still had them.
Recently I discovered Picture Keeper.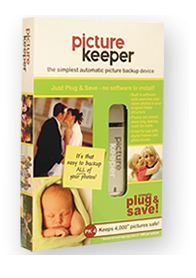 Picture Keeper comes in four different sizes PK 4, PK 8, PK 16, and PK PRO. The amount of pictures you can store on each one depends on the size of your pictures. The bigger the picture the less you can store. I received the PK 4 for review, once getting this product I needed to check it out. I pulled it from its package examined it and then plugged it into the computer.
Once it installed I open the folder and ran the Picture Keeper application. Once the application started it found all my pictures and started to copy them to the Picture Keeper.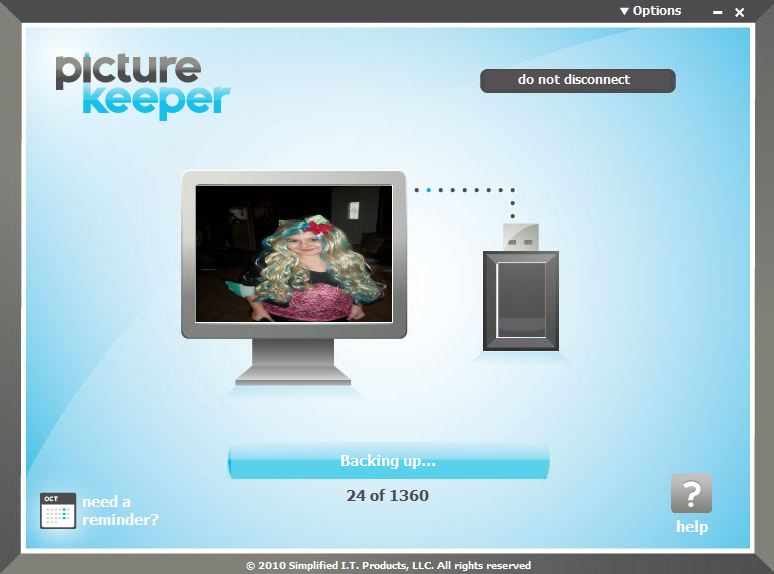 I have to say I love this product, it makes backing up my pictures super easy. One thing it does recommend before backing up your photos, is to make sure if you have any doubles, or ones you don't want removed from the computer. This way it only backs up the ones you really want.
I also love that it has a string on it, this lets me hang it up next to my desk and if something was to happen I could grab it on the way out. From my experience with this product it's made well. So it will be a bit harder to break it unlike the other thumb drive I had. My over all opinion on this product… Well made, and perfect!
This product would make a great gift for family members, especially if you live hours away. You can load it up with pictures of the kiddos and send it off. :)
Picture Keeper's price varies on the size you get. The price range is $29.99 to $189.99 IF you already have a thumb drive you can just get the Picture Keeper software for $29.99.
However if you act know you can get a special deal! Picture Keeper is on Groupon's for a limited time and you can get up to 58% off. Mother's Day is coming up this would be a great gift!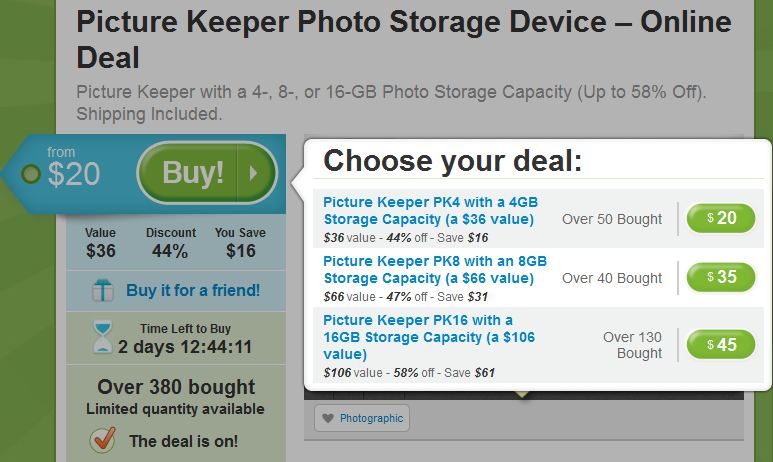 Picture Keeper also has another special offer when you purchase a Picture Keeper at participating Walgreens stores you could receive a coupon for 50 FREE Prints at a Walgreens Photo Center. Just save your receipt and email it to sales@picturekeeper.com and Picture Keeper will provide a $5.00 Walgreens gift card!
How would one of you love to win your own Picture Keeper? Well, one reader of The Neat Things in Life is going to win the same Picture Keeper I received for review the PK 4. Trust me you will love this product!
Mandatory: Head over to Picture Keeper's website, and let me know something you learned.
Want Extras?
Like Picture Keeper on Facebook
Follow Picture Keeper on Twitter.
Like The Neat Things in Life on Facebook
Subscribe via email.
Follow me on twitter.
Follow me on Pinterest.
Daily Entries
Stumble, Like, Tweet, Google + the post.
Make sure to leave a comment for each you do.
Enter to win Picture Keeper @Jammie79 #win #giveaway http://www.theneatthingsinlife.com/?p=9769
Giveaway will end on May 22nd at 11:59pm CST and is open to the lower 48 states. I received product for review purposes only, this is my honest opinion.